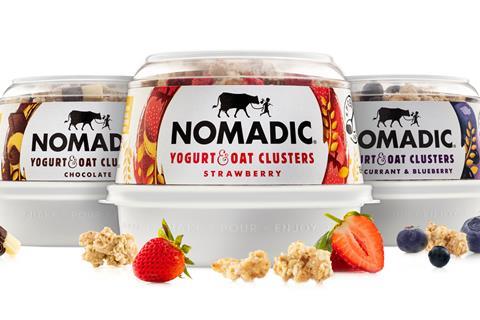 Nomadic has ploughed £2.7m into new packs it claims will slash 240 tonnes of plastic from its supply chain.
The brand has introduced 'eco-packs' for its yoghurt and oat clusters range, which clip together, eliminating the need for plastic wrap.
Meanwhile individual packs have been given cardboard sleeves and the foil tops covering the yoghurts have been made completely recyclable by removing a plastic substrate.
Mini wooden spoons made from renewable, Forest Stewardship Council-certified pressed birch have replaced the plastic versions that were previously being used.
Nomadic claims the new spoons are a first to market, in that unlike competitors, the spoons feature an "all-natural food-grade lacquer" for "a smooth and pleasant eating experience".
"Given that our yogurts are all about balance, we decided to apply the same principles to the business," said Nomadic head of marketing and innovation Tom Price.
"We're especially pleased with the spoon – a crucial component of our single-serve, 'on the go', yoghurts. Most wooden spoons can taint product taste – this one doesn't and is a major step-up in quality."
New shelf-ready packs used to display the brand's SKUs in-store, made from 100% recycled plastic, are also rolling out across its wider range.
It comes as sales of Nomadic have surged over the last year, growing 20.8% to £20.5m, despite a major decline for the overall yoghurts and potted desserts category [Nielsen 52 w/e 7 September 2019].