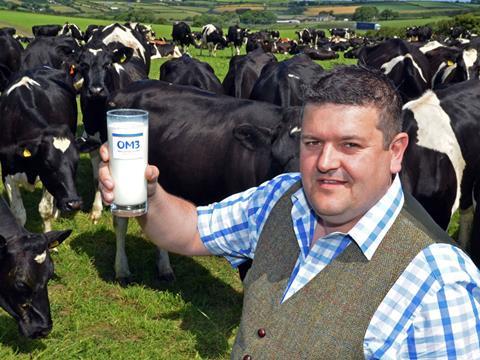 An innovative new omega-3 enriched milk created by feeding fish oil to cows is headed for supermarket shelves early next year, following the efforts of an enterprising Welsh dairy farmer.

Will Prichard, partner of Pembrokeshire-based AH Prichard & Son, is currently in discussions with the mults about OM3 milk, the omega-3 enriched milk he produces from his herd of 1,300 cows.

He said he was in "detailed communication" with five major supermarkets over listings for the product - either as own-label milk or under the OM3 brand - with a view to it hitting shelves in early 2016. Discussions were also ongoing with three national milk processors and two multinational foodservice companies, he added. "Lots of retailers are looking to add value to their milk ranges, so this could happen quickly," he said.

The milk is created by feeding a human-grade fish oil additive to cows. It takes two weeks for the cows' milk to then reach the required level of omega-3 needed to satisfy EU health claim regulations - which state that 100ml of milk should contain at least 40mg of omega-3 fatty acids.

"The product is the only one in the UK that can satisfy these regulations," Prichard said, and was entering the market at a "very opportune time given the difficulties facing the dairy sector".

Because the fish oil was in the feed, the milk was not affected by "fish taint" or a fishy taste, as could be the case when milk is enriched industrially, Prichard said.

"What we're trying to do is add value to the raw milk product before it is processed, but there is also obvious scope to use this milk to manufacture products such as omega-3 enriched cheese in the future," he added.

OM3 will cost between £1.39 and £1.49 per four-pinter, roughly between standard and organic.