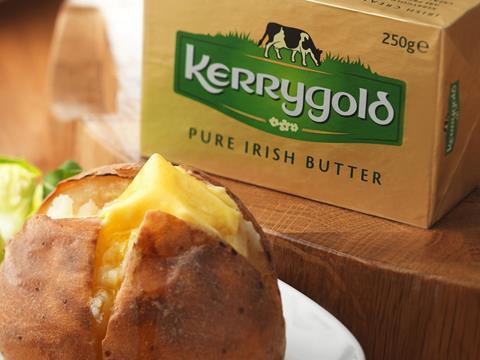 An "excellent" year for Kerrygold and record growth for Ornua's US ingredients business has helped the Irish dairy co-op deliver a strong trading performance for 2018.
Ornua's global turnover increased by 0.6% to €2.08bn last year, according to its annual report, published today. Operating profit before exceptional items rose by 14.8% to €40.4m, while group EBITDA rose by 12.5% to €60.5m.
Last year was a "standout year" for Kerrygold, said Ornua CEO John Jordan, with the butter brand enjoying a 30% increase in volume sales in the US, and accelerated sales growth in Germany – where it was "the fastest-selling of any food and drink brand in the entire German retail market".
Jordan said the brand had also performed well in the UK (value sales rose 1.3% to £26.2m, according The Grocer's 2018 Top Products survey). Meanwhile, Pilgrims Choice continued outperforming the branded category and grew its repeat purchasing rate, he added.
Other highlights included a record year for Ornua Ingredients USA with double-digit volume growth, while Ornua Ingredients Europe saw its NPD pipeline grow "significantly" with a new UK line commissioned at its Ledbury facility.
Work has also started on the construction of a new Ornua cheese facility in Spain – a state-of-the-art 110,000 sq ft factory that would expand Ornua's growth opportunities across Continental Europe.
Brexit planning
A late production season due to last year's harsh winter and Brexit planning resulted in the group carrying additional stock over the year-end, bringing net debt to €110.1m compared with €0.3m of net cash in 2017.
However, Ornua's "scale and agility enables it to deliver this important support to the industry", Jordan stressed, with the group's overall performance allowing it to pay a total year-end bonus of €19m to farmer members, up 27% on 2017 levels. "2018's performance was achieved during a period of significant investment in the business and sustained investment in our brand portfolio," Jordan said.
Elsewhwere, Ornua's chairman Aaron Forde warned the continuing challenges of Brexit to Ornua and the Irish dairy industry was "undiminished".
The business was "as prepared as it can be", given the ongoing uncertainties, he added, with Ornua having focused its Brexit preparedness plans on strengthening customer relations, managing currency risk, driving Ornua's UK operational efficiencies, securing supply, and evaluating market and product diversification options.
But despite these actions, "even in its least disruptive form, Brexit will be costly", he conceded. "A transitional period is, therefore, essential to give businesses such as Ornua and its customers time to adjust to any new trading arrangement."
Notwithstanding these challenges, Jordan insisted Ornua was "in a position of strength" and would "continue to protect our grass-fed advantage on the world stage and partner with our members to deliver a sustainable future for Ireland's vibrant dairy industry".