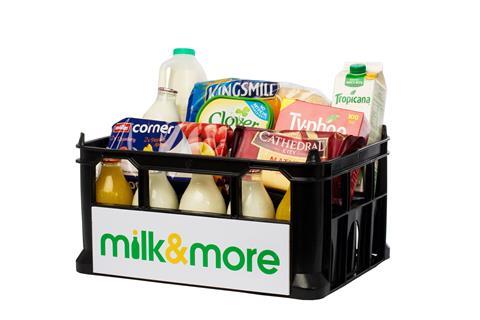 Müller has thrown its weight behind milk doorstep delivery with plans to boost the Milk&More service it bought as part of its acquisition of Dairy Crest and stop the planned closure of one of UK's biggest glass bottle milk plants.
Dairy Crest had planned to shut Hanworth Dairy and review Milk&More in light of the declining popularity of milk deliveries. It planned to phase out all milk in glass bottles and sell only milk in plastic bottles instead.
But Müller today said it wanted to reverse such plans and "rejuvenate and expand" the Milk&More service instead. This would include the creation of a new dedicated Milk&More business unit.
"When Müller acquired Dairy Crest's dairy operations in December we committed to taking measured decisions as quickly as possible to build a sustainable fresh milk business in the UK," said Patrick Müller, head of the newly created Milk&More unit.
"This was an easy decision to make. Milk&More is a great business driven by employees who are talented, committed and passionate about what they do, and the Hanworth Dairy is an integral part of the supply chain for the doorstep delivery business. We are confident that our proposals will be welcomed by customers and employees alike and we look forward to discussing the future with them."
Neil Garner, Milk&More milkman of the year 2016, described the announcement as "brilliant news". He added: "Our customers love fresh milk in glass bottles. For many they are just what the doorstep delivery service is all about and they regard them as being as much of a British institution as the milkmen and women who deliver them. Being a milkman means you are part of the community and it's a big part of why I love my job. We get to know our customers, often over many years, and they depend on us to deliver come rain or shine."
Declining doorstep sales
When Dairy Crest announced plans to phase out glass milk bottles in 2014, the processor pointed to a sharp fall in demand for milk in glass bottles and doorstep deliveries in recent decades. Glass bottles accounted for just 4% of milk sales in 2012, down from, 94% in 1975.
The company also said plastic was now more environmentally friendly than glass, as well as being more convenient for consumers.
The move sparked outrage among some consumers at the time, with comments left by readers on thegrocer.co.uk including "There's nothing quite like fresh, cold milk straight from a glass bottle on your breakfast cereal. And the best way to get that is with a morning delivery from your local milkman."