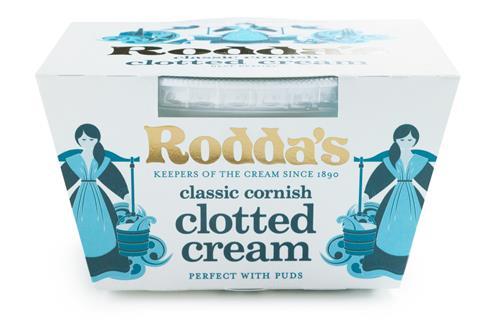 Tesco has joined the likes of Sainsbury's and Morrisons in stocking Cornish clotted cream brand Rodda's nationwide.
Its 227g tub will be rolled out this week to more than 800 stores, while its full range will continue to be sold at 79 branches in the south west of England.
MD Nicholas Rodda described the national listing with Tesco as a "watershed moment for the brand".
"Rodda's have had a close relationship with Tesco for over 25 years and we are grateful for the support that we have from their team to deliver the national rollout of our clotted cream within their stores," he said.
"We have big ambitions to increase awareness of Rodda's on a national level, so the opportunity to be listed nationally in new geographic areas will help us to showcase the brand to new audiences, who haven't previously been able to purchase our clotted cream."
The news comes after the brand reported record growth in April 2021.
Rodda's capitalised on a 36.2% increase in value sales for the clotted cream segment as a whole [Kantar 52 w/e 1 November] to deliver a 33% increase in value sales growth for the brand.
This was driven by rising in-home demand, and shoppers trading up from other products such as single cream and crème fraîche as well as existing shoppers and brand loyalists buying more of the product, it said.