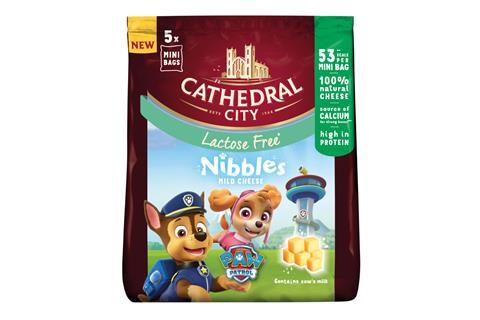 Saputo Dairy UK has launched its first significant tranche of marketing activity since ditching the Dairy Crest brand name during the summer.
The dairy giant has released a family-focused digital marketing campaign for its Clover spread as well as a new free-from variant of its Cathedral City Nibbles kids' snack.
Its YouTube-centred 'Spread the Love' advertising push launched online last week and, with its "animated Clover 'buttery kisses'", aims to reinforce Clover's credentials as a healthy alternative to butter.
"Our family audience is faced with daily worries about how to nurture a healthy and happy family," said senior brand manager Emilie Grundy.
"We believe there's no need to compromise – in choosing Clover you can keep your family healthy while still giving them the delicious buttery taste they love."
Saputo's new lactose-free Cathedral City SKU for children (rsp: £1.50/five-pack) will also aim to capitalise on health concerns.
Made with 'mild lighter' cheese, which comes in at 53 calories per mini bag, the NPD is said to contain 30% less fat than a standard cheddar.
Saputo also promised it would test each batch of the new Nibbles "to guarantee there is no lactose left", said Cathedral City snacking brand manager Anca Lazar.
"Demand for free-from alternatives continues to grow, and their appeal is not limited to adult occasions," she added. "Our recent snacking research uncovered that for some this may mean catering to a child's dietary intolerance or simply a preference to avoid certain foods in their family's diet."
Canadian dairy corporation Saputo acquired Dairy Crest in a £1bn deal in April before changing its name to Saputo Dairy UK in July.