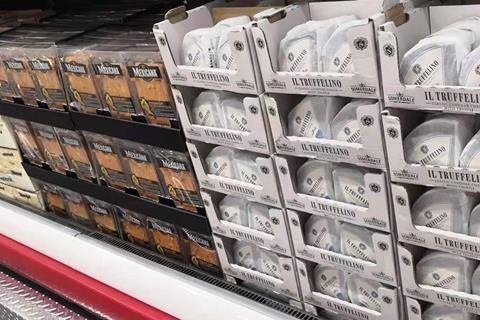 UK cheese exporter Somerdale International has secured multiple listings in China's first ever Costco store.
The warehouse club retailer's new store in Shanghai opened today and includes a selection of five cheese SKUs sourced by the exporter.
They include a Somerdale-branded coastal cheddar produced by Dorset cheesemaker Ford Farm dairy; Somerdale's Il Truffelino, which combines English cheddar with a black summer truffle; a Somerdale-branded Wensleydale & cranberry cheese; Norseland's Mexicana spicy cheese and Somerdale's Best of British four cheese selection pack.
Somerdale said the listing built on its existing relationship with Costco in Australia. With the US retail giant planning to open many more stores across China, it added there was a "great opportunity" to further increase its presence in the country. The company exported £750,000-worth of British cheese to China last year, with year on year export values climbing by 10% for the third consecutive year.
The Shanghai store's British cheese offering had been tailored to local demand requirements, said Alexander Macdonald, director of Somerdale's Chinese partner London Food, who was "confident sales will be significant".
There was an "increasing demand" for high quality British food in China, added Somerdale MD Stephen Jones.
"We are witnessing increasing interest in British cheese and dairy products," he said. "We have a great story to tell in relation to product quality, environmental standards and provenance, and the great taste of our cheeses."
It follows concerns by Somerdale earlier this year that its burgeoning Chinese export business could be halted due to the refusal of Defra to fund a Chinese inspection visit across several UK exporters in September.
However, the business and other UK cheese exporters pledged to foot the bill in May, and the visit is now provisionally set for October.