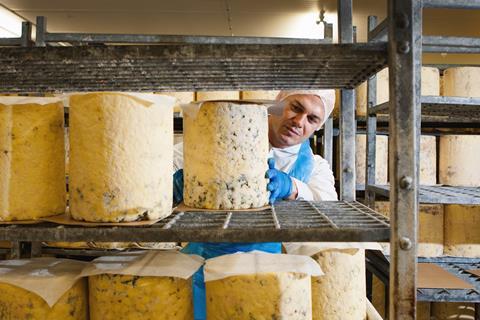 Stilton producers have moved to reassure enough of the blue cheese will be available for the "hugely important" Christmas sales period.
Despite warnings in a recent Sunday Times report that pandemic-linked production shortages could lead to a "blue famine", the Stilton Cheese Makers Association stressed there would be enough product on shelf to meet demand.
The report suggested some retailers were anticipating having to ration out stilton due to production stoppages this year.
But the SCMA – which represents the six dairies licensed to produce the cheese – said production had "been adjusted" and it was making just as much cheese for retail now as it had done for Christmas in 2019.
While demand had been unpredictable this year, Christmas was "such an important time of year [cheesemakers] were working hard to ensure no one will miss out on their stilton", said Kim Kettle, the-joint MD of SCMA member Long Clawson Dairy.
It comes as volume sales for the blue cheese this year remained subdued due to the coronavirus pandemic and its disruption to the hospitality and events industry.
Sales were approximately 16% lower from January to October than they were during the same period in 2019, according to SCMA's figures.
However, this estimate marks an improvement on the industry's previous assessment of the impact of Covid-19 back in May, when it said sales had fallen by as much as 30% year on year during the first lockdown.
The drop-off has left producers hoping for a busy Christmas, something research by Consumer Intelligence in November suggested could be in the offing.
Of more than 1,000 consumers surveyed, 63% said they were more likely to buy British to support producers during the festive season, with just over half (52%) declaring they would prefer to purchase British cheese instead of French or Italian varieties.
Close to half (46%) of respondents said they planned to spend more on cheese over Christmas, the research found.
"Christmas is a hugely important sales period for stilton and other British producers. We hope shoppers will buy British this year after a challenging 10 months since the pandemic began and we can all look ahead to a more prosperous 2021," said SCMA chairman Robin Skailes.