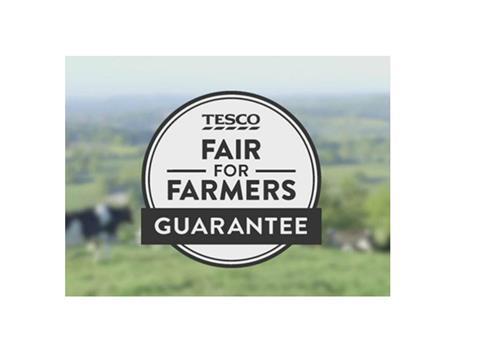 Tesco has expanded its 'Fair for Farmers Guarantee' to milk sold in its One Stop convenience subsidiary in what it said was a bid to ensure a sustainable future for British dairy farmers.

The announcement was made at the Tesco Sustainable Dairy Group conference yesterday, to coincide with 'Fair for Farmers'-stamped fresh milk products rolling into One Stop's 642 UK stores.

The on-pack guarantee assures customers farmers are paid more than the milk costs to produce, irrespective of retail price fluctuations. It also conveys high welfare standards and 100% British milk in every bottle bearing the mark.

To cope with the additional demand from One Stop, the TSDG has partnered with a further 25 dairy farms to take total membership to 720.

"We're delighted to expand the Tesco Sustainable Dairy Group to supply One Stop's convenience stores," said a Tesco spokesman. "The move will mean more dairy farmers join the TSDG, and will benefit from a fair price for every pint they provide."

The NFU hailed the move as a win for British farmers with the body's food chain advisor Christine McDowell telling The Grocer the news was great for the industry after a tough period of tight supply.

"Consumers want to see British on shelves, so this assurance across convenience and supermarkets is a huge step forward."

The TSDG was founded in 2007 to guarantee Tesco's dairy farmers a "fair price". In June last year the retailer decided to begin signposting its work in the dairy sector with the launch of its 'Fair for Farmers' assurance stamp across fresh milk products in Tesco stores.