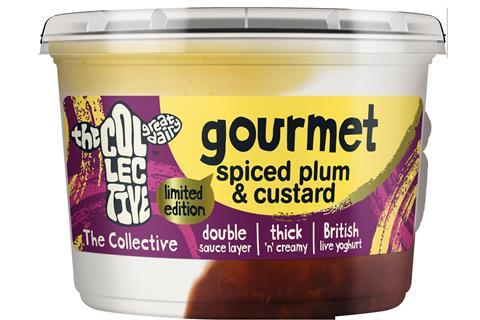 The Collective has launched a limited-edition spiced plum and custard flavour yoghurt.
It is made of "rich and creamy vanilla custard" with a "punchy, spiced plum compote" made with stanley plums.
After a three-year hiatus, the Gourmet yoghurt brand has reintroduced its limited-edition range to "bring freshness to the segment".
The yoghurts will be available on a six-month rolling agenda with new products constantly under development to keep "consumers excited by the luxury yoghurt segment".
"We're delighted to have them back in market, trailblazing on utterly unique flavours and mouth-watering eating experiences," said marketing director Tor Hunt-Taylor.
"Our role has always been to shake up the dairy category and making things more exciting for consumers, and limited-edition Gourmet does this with deliciously unexpected flavour offerings."
The new flavour is a seasonal line for autumn and winter, and is now available in Sainsbury's and Ocado, as well as Waitrose by the end of the month.
The brand's next limited-edition yoghurt will launch in March to align with spring and summer.
It comes following the expansion of the brand's children's range. The yoghurt brand's new Brekkie range comes in two flavours – blueberry and banana – and has only 7g of sugar per 110g pouch. This, The Collective said, was much less than other breakfast snacks on the market, which typically contained 20g-30g of sugar per 100g.