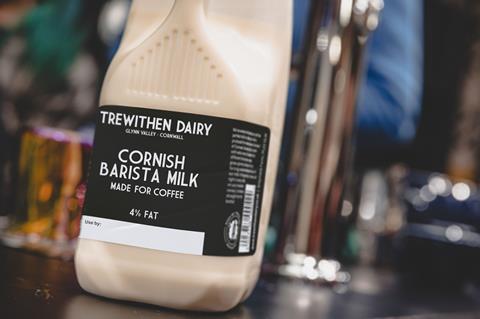 Trewithen Dairy has made its Cornish Barista Milk available to consumers in Ocado from the end of October for the first time.
The Cornwall-based dairy supplier said its barista milk (rsp: £2) was being made available to retail consumers following its success within the speciality coffee industry.
The milk was designed to produce the perfect froth for coffee at home containing 3.5% protein and 4% butterfat to create a "smooth, full bodied, flavour, long-lasting microfoam and consistent performance for latte art".
Trewithen claimed the launch represented the first non-UHT barista milk for the retail market.
"We created, developed and launched this product with baristas for baristas, in partnership with Stores Supply, who are experts in the specialty coffee space and whose insights and support have been invaluable," said Francis Clarke, director of Trewithen Dairy.
"Our barista milk has been hugely popular in cafés across the UK for the last few years and it's now so exciting to be able to offer everyone across the country the chance to try making their own coffees with it for the first time," added Clarke.
Feedback from baristas included that the new product "steams and froths very nicely, better than any others" and was "very sweet, lasts longer and works fantastically well with dark or light coffee", Trewithen said.
The dairy has a careful homogenisation and pasteurisation process, foam testing every batch before distribution to ensure consistent foaming even at home.
Earlier this year, Müller launched its own dairy barista milk in retailers nationwide. Its Good Stuff Barista Milk is UHT and can be sold ambient, boasting a 120-day shelf life.