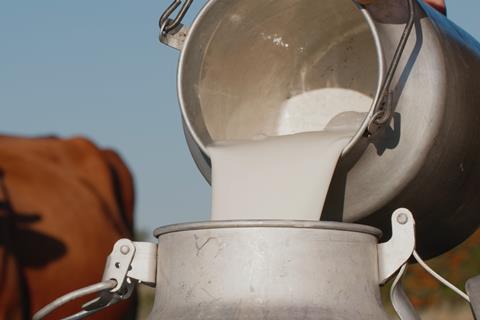 The UK is in effect "banning itself" from selling raw milk to the EU due to a refusal to license certain storage premises for export, experts claim.
The EU requires all milk from third countries to be sent from approved food establishments. However, only processing sites have so far been licensed by English local authorities.
It means that raw milk stored in depots is currently unable to be shipped to the bloc.
Richard Hampton, MD of organic dairy co-op Omsco, likened the issue to the EU's post-Brexit ban on seed potatoes and bivalve molluscs such as oysters. "However the difference here is we're stopping ourselves from exporting," he added.
The issue was most acute in England, Hampton said, as some storage depots in Scotland had already been licensed by local authorities. Scottish food safety falls under Food Standards Scotland, rather than the FSA.
Hampton argued the Scottish license showed the issue could be solved, but Scotland's distance from Europe meant its sites were unsuitable for exporting raw milk given its short shelf life.
"This isn't the French saying we can't export to the EU," said Hampton. "It's the UK authorities being unable to make up their mind as who needs to authorise what. It's ridiculous." The issue is costing Omsco around £10,000 each week in lost exports and up to half a million pounds year if it remains unsolved.
While exports are relatively small, both organic and non-organic British raw milk are an important ingredient for certain European manufacturers who have come to rely on cross-border milk supplies with the UK, Hampton added.
An FSA spokeswoman said it is aware a company has approached a local authority in England seeking approval for a vehicle depot to supply raw milk to the EU. "Defra and the FSA are working with the local authority to try and find a solution in this case."
It comes as FDF data for February showed a big drop-off in UK dairy exports to the EU as a result of post-Brexit trade barriers, with milk and cream exports falling by 96% compared with the same month last year, raising the possibility of an oversupply on the UK market.
However, a dairy industry source suggested the lower-than-expected spring flush due to recent cold weather had so far "eased concerns on overcapacity and the potential need to export some milk to be processed".