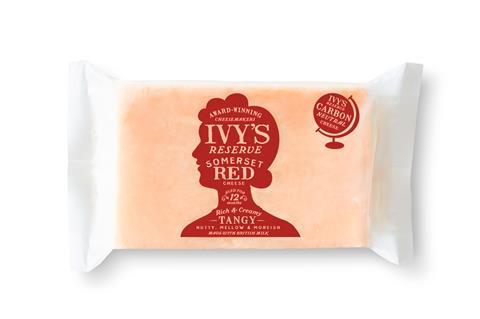 Wyke Farms has launched Ivy's Reserve Somerset Red, which it claims is the first innovation in hard cheese from the UK in 20 years.
The red cheese has a "buttery smoothness, combined with the richness and savouriness of the vintage reserve, but with an added creaminess, tanginess and nuttiness on the end".
The Somerset cheese comes with the "reserve" status as it has a special flavour profile that complements Wyke's Ivy's Reserve Vintage Cheddar.
The cheesemaker said it has a "moreish" taste and melts with ease.
Somerset Red was made with natural starters used to produce the texture that have been kept on the farm by the Clothier family for over one hundred years.
"For this special cheese we selected a unique strain from our natural starter set," explained Rich Clothier, MD of Wyke Farms. "The starter we use is a cremoris-based strain that we adapt in the recipe to enhance its creaminess and complexity."
The cheese was then matured for over a year under wood and monitored by the master cheese grader at Wyke Farms.
"My grandmother [Ivy] would be pleased to sit this cheese alongside her famous Vintage," Clothier added. "We affectionately call it 'Grandfather Tom' as it's nice to see them together again complementing each other so nicely."
In line with the rest of the Ivy's Reserve range from Wyke, the cheese is carbon neutral and verified to the PAS 2060 standard.
"We remain focused on developing the Ivy's range and continue to work towards more net positive improvements," said Clothier. "This is the future of dairy, and we are leading the way with fresh innovation and creative, sustainable offerings that have global appeal."
Ivy's Somerset Red will be available to stock in the UK and launches into US retailers in April 2024.