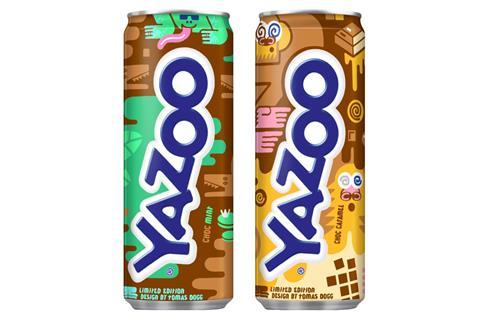 FrieslandCampina is to expand its Yazoo dairy drinks portfolio next year with a first move into metal cans.
The new format will launch in the spring, said the Dutch dairy co-op, and would feed into a wider sustainability drive to be launched across the business in 2021 – which will also include an improvement in recyclability for Yazoo's plastic bottles.
Friesland said a first move for Yazoo into cans was a response to consumer demand for more packaging choice. It already sells its market-leading Dutch chocolate milk brand Chocomel – which launched in the UK last year – in cans.
The new Yazoo cans will carry the eye-catching designs of artist and illustrator Tomas Dogg, who won a nationwide, consumer-led competition by the brand to find the UK's best up-and-coming artist.
The supplier said the competition was designed to "reinject some fun, positivity and engagement amongst its audience" after an "incredibly tough year". Dogg was tasked with co-creating the limited edition artwork (with input from Yazoo fans) for the relaunch of its best-selling Choc Caramel and Choc Mint flavours in the new can format.
"Despite a challenging year, Yazoo has continued to grow as a result of successful partnerships, improved distribution in grocery, and high performing 1L variants," a spokeswoman for FrieslandCampina said.
She added the brand had also seen "record-high penetration rates" (up 13.5%) this year, with further investment in the brand planned for 2021.
Nielsen data for The Grocer Top Products survey [52 w/e 5 September] shows that Yazoo grew value sales by 1.4% to £63.6m, with volumes up 1.5%. In contrast, the brand's closest flavoured milk rival, Müller's Frijj, saw sales fall by 29.5% to £24.1m, with volumes down 38.7%.