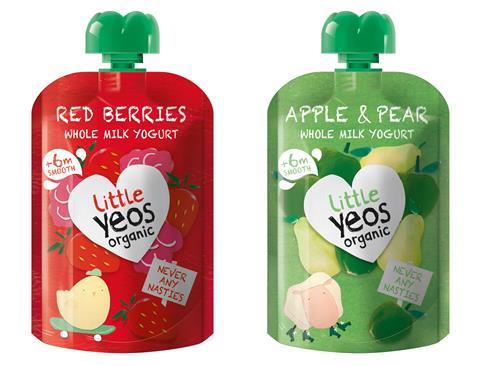 Yeo Valley Organic is to take its first steps into the yoghurt pouch subcategory with the launch of two new variants under its kids' brand Little Yeos.
The 90g pouches are made with real fruit pureés and Yeo Valley's UK-produced organic yoghurt. They will be available in Red Berries and Apple & Pear flavours nationwide from 21 September (rsp: 75p each).
Targeted at weaning babies over six months and for use in lunchboxes, Yeo Valley said the pouches would also be part of a new recycling scheme – feeding into its wider Put Nature First campaign, which aims to increase the use of more recycled and recyclable packaging for all its products.
Shoppers will be encouraged to send empty Little Yeos pouches to Enval, a specialist recycling company with a patented technology for recycling plastic aluminium laminates.
Enval will then recycle each component of the pouches (bar their already recyclable caps) into materials that can be reprocessed and go back into circulation – "helping us all to do our bit for the environment", said brand manager Tor Crockatt.
"We want to make Little Yeos even more convenient, as sustainable as possible, and of course as tasty as ever, and our pouches are just one of Yeo Valley Organic's latest innovations," she added.
"We know parents and carers want to buy the best for their babies and preschoolers and it's important we provide the most convenient formats for them," Crockatt said.
"Our pouches are also a great choice for weaning babies, helping them with some of their first tastes. It means our consumers can feel confident they're giving little ones food as it should be, with all-natural ingredients, organically farmed and each pouch includes live cultures for happy tummies."