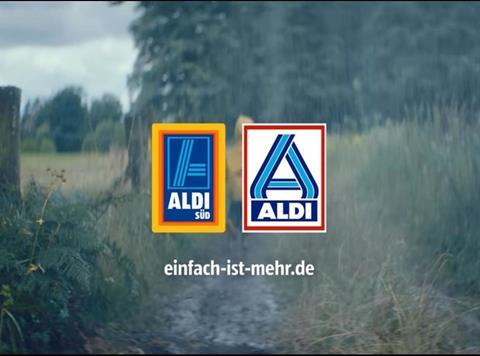 Aldi has been making waves in its German home market with a new TV ad this week.
The campaign has proved a talking point for several reasons: it's Aldi's first TV ad ever to run in Germany; it's a joint project between Aldi Nord and Aldi Süd (the two companies are normally kept painstakingly separate); and it doesn't feature any products.
While the first two points speak to how the dynamics in German grocery retail have changed in the past few years (in particular how a bold Lidl has given Aldi a run for its money and forced it to up its game), the latter highlights an important shift in how the discounter is looking to position itself.
"We don't need a supermarket that's so big you can't decide what to buy"

Aldi TV advert
No products, no messages around prices. Instead, the 47-second clip shows kids running around, playing and happily creating a mess. "Children don't need much to be happy," a child's voice says. "We don't write emails – we just talk to each other. We don't need a supermarket that's so big you can't decide what to buy. Why do you all believe you need more? Just choose the right things – and set yourselves free from the rest."
This kind of "back to basics" messaging has long been an undercurrent in how the German discounters have marketed themselves, both at home and abroad, but with its new campaign Aldi is moving it centre stage. Its new slogan, unveiled to coincide with the TV push, is "einfach ist mehr" – simple is more. It's launched a dedicated Einfach ist Mehr website, full of 'life hacks' for simpler living. It's produced a series of online videos explaining its "simplicity principles". It's even released a song with a German rapper (!), extolling the virtues of living a simple life.
Analysts like Boris Planer at Planet Retail's office in Germany detect in this a desire to court a new generation of shoppers. "Aldi is really trying to reach out to millennials with this campaign," he says. "Millennials are far less driven by conspicuous consumption and more interested in living a stress-free life. That's the card Aldi is playing. If you can spend an hour less on doing your shopping because you don't have to choose between dozens of different yoghurts, then you have more time to focus on what matters. That kind of message resonates really strongly with millennials."
Minimalist living
Indeed, it's the same trend that's already driving soaring interest in 'capsule wardrobes', lifestyle detoxes, mindfulness and minimalist living elsewhere. In retail, the idea that more choice doesn't necessarily lead to greater consumer satisfaction has been well rehearsed ever since the famous jam experiment, and is increasingly being put into practice in this country and elsewhere through range rationalisation programmes.
And while it can be a fool's game to look to Germany for clues as to what the discounters will do next over here, Planer believes Aldi's 'less is more' mantra is potent enough that it's likely to cross borders in time.
However, in doing so, Aldi will probably be less bold than it is in Germany. While its new Everyday Amazing push in the UK hints at ambitions to become more of a lifestyle brand focused on values, core messages on product quality, price and straightforward comparisons against brands (as seen in this Aldi nappy advert, comparing the Mamia range against Pampers) will remain important in the UK for the foreseeable future, predicts Planer.
"In Germany, shoppers know the products are good. They know the prices are good. Aldi can spend more time talking about how it fits in with people's lifestyles, about the experiences it gives them. In the UK, they will still need to push the products and hammer the message on quality."
Rivals would nevertheless do well to keep a close eye on Aldi's moves to position itself around on-trend messages on mindfulness and minimalist living. "This desire for a simpler life is a growing trend in Western Europe more generally, including in the UK," says Planer. "It's something grocery retailers can't ignore."