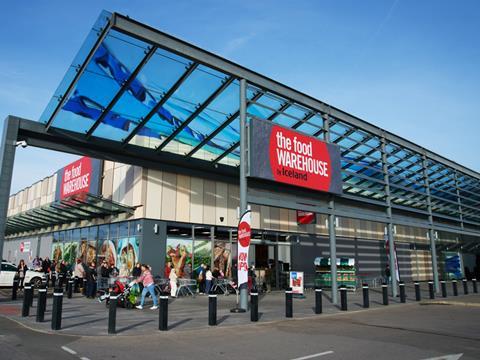 A year ago a resurgent Iceland was harnessing the 'Power of Frozen' to post stellar like-for-like growth numbers on top of ambitious store expansion plans.

Last week Iceland posted undeniably impressive full-year growth of 8% to push annual sales past £3bn, but the frozen specialist's results received a frosty reception as critics focused on a sales slowdown and downbeat outlook.

Full-year like-for-like sales growth of 2.3% in the 53 weeks to 30 March 2018 compares robustly with all its grocery rivals, except perhaps the all-conquering discounters.

Annual growth was an improvement on the 2% posted the previous financial year, itself a turnaround from a 2.7% like-for-like decline in 2015/16.

But growth ebbed during the year, from 6.8% in the first quarter to just 0.3% in the key third encompassing Christmas before a rebound to 1.8% growth in the final quarter.

This sales growth was also not accompanied by a boost in profitability, with adjusted EBITDA (excluding exceptional items) down 1.8% to £177.1m and EBITDA margin down from 5.7% to 5.2%.

Its outlook was also "surprisingly downbeat", one rival noted, with like-for-like sales negative since the year end and warnings of the impact of rising staff costs and oil prices on first-half earnings.
Time to worry?
So has Iceland's resurgence run out of steam? If Iceland group managing director Tarsem Dhaliwal is worried, he hides it well. "I always expected our sales to slow," he says. "We never expected to post significant like-for-like growth on the back of the numbers we achieved in the previous year."

He admits the group, which opened a further 23 larger Food Warehouse stores in the year to take the total number to 59 nationwide, may have experienced a slight degree of cannibalisation of its own sales through expansion. But the primary pressure on sales growth remains the brutally competitive UK grocery environment.

"The market is constantly changing and changing quite dramatically," he says. "Since September or October last year the big boys have been very focused on value and price and we have had to react to that.
"Short-term sales pay today's rent and wages and sometimes you have to trade harder than you'd like to ensure you're not left behind by other retailers."

Shore Capital analyst Clive Black notes that Iceland is facing pressure from "formidable competitors" Aldi and Lidl, but also sales improvements across three of the big four grocers as well as smaller players. "There is no doubt B&M buying Heron Foods has injected a genuine value-driven competitor in the frozen space which could put more pressure on Iceland's lower margins," he said.

Dhaliwal concedes Tesco's recovery - "with 30% of the market they will be taking share from a lot of people and we're probably one of them" - and budget-focused discounters like B&M and Home Bargains are intensifying pressure.

"The reality is you can't fight every battle on every street corner because you'll be dead. You've got to fight those battles you know you can win and that means focusing on what we're good at."
Food Warehouse shift
And what Iceland is good at is frozen foods. The category continues to generate around 40% of sales and Dhaliwal says it remains the core proposition despite efforts to broaden range and appeal in recent years.

So has the opening of out-of-town Food Warehouse stores including general merchandise been a distraction?

"Its traditional sites are on the high street where there aren't other supermarkets of that size," says retail consultant Graham Soult. "The growth it's pursuing is on the Food Warehouse side, but I'm not entirely sure how that complements the core brand and how it's distinctive from Aldi at one end and Costco at the other."

Capital expenditure was up almost 25% in the year to £81.3m, funding the Food Warehouse expansion, but also a modernisation and premium refit programme that's extended to over 50 stores, and - having sworn it would never open one again - the first new core Iceland store for over two years.

"There is a cost of competing," adds Black. "There is no doubt, if they let standards in the stores decline it will do more harm than good. But the refits and displays they've put together have been impressive."

And crucially, says Dhaliwal, "we haven't got carried away. Any investment in stores is for a return and we only invest what we can afford. We will never stretch ourselves and if sales slow down we'll reduce capex."

Dhaliwal still sees opportunities for new stores, though. "With all that's happening in the retail industry with CVAs we'd hope there is an opportunity to grab more outlets."

He also stresses capital expenditure encompasses investment in infrastructure, technology and distribution. Iceland has stepped up its online business, for example, including more delivery slots.

The investment, including a Grocer Gold-winning Iceland Luxury own label range, has been part of a drive to attract a new demographic to Iceland - all hooked on its Power of Frozen marketing campaign.
But does it echo its efforts to shift to organic product in 2000 - a move that was quickly ditched amid plunging sales? Black questions Iceland's success in "breaking the glass ceiling into the higher category range" and, significantly, there has been a recent shift in marketing back towards traditional customers.

"We had to ensure our core customers didn't forget we're still great value for money," admits Dhaliwal. "So we've turned up the volume on that message and turned it slightly down on convincing customers there's more to Iceland. It's like a pendulum - sometimes more strategic and sometimes more tactical."

Some have framed Iceland's sustainability commitments to ditch own label plastic and palm oil as further effort to stretch its appeal too far.

For Dhaliwal it is simply "doing things you passionately believe in, knowing full well there isn't a commercial benefit.

"You'd hope it does pierce the customer's conscience, but we don't want to do this on our own."

Despite Iceland's cautious results statement outlook, Dhaliwal also shrugs off the threat of the Sainsbury's/Asda mega-merger or that of Brexit. "There's no point me wasting time and effort on things we can't control".

Iceland, he says, is investing in the future and a temporary dip in sales won't derail its wider strategy. "We're confident about the future," he stresses. "We've been around 48 years and we're still here - I wonder where some of our current competitors will be in 48 years' time."