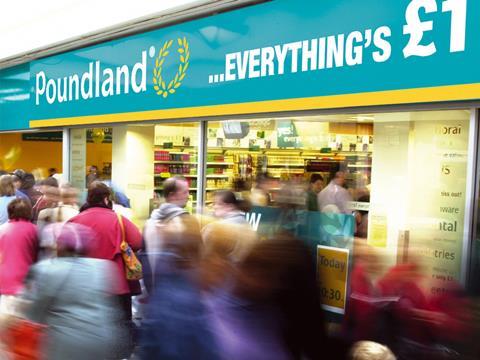 Shares in fixed-price discounter Poundland took a dramatic tumble to all-time lows as it warned trading in its all-important third quarter had been "highly volatile", putting extra pressure on its performance in the run up to Christmas.

The stock, which floated at 300p in March 2014, slumped more than 20% to 216p after the interim results revealed profits had fallen 44% to £5.3m as it came up against the bumper bottom line of a year ago at the height of the loom band craze.

It has recovered slightly at the time of writing to 228.9p, but is still a long way from the record high of February when it reached 421p as it announced it had agreed to buy 99p Stores for £55m.

Poundland said in its half-year results that it was now accelerating the conversion programme of the 99p estate as the acquired business was in worse shape than originally thought. "The disappointment lies within current trading, which is clearly weaker than expected as Poundland heads into peak," Investec analyst Kate Calvert said. "The 99p Stores acquisition should yield material synergies, but less than we expected."

B&M European Value Retail experienced a 3.3% fall in share price to 307p on Tuesday despite announcing 26% uplifts in sales and profits to £930.3m and £66.4m respectively in the first half. Problems arose from opening 47 stores in just 26 weeks, leading to distribution hubs creaking under the weight of the inflated property portfolio and shelves going unstocked.

"We see these as temporary impacts resulting from the step-up in new stores," analysts at Jefferies said. "With all stores now fully restocked we see an opportunity for like-for-like pick up through the second half."

Majestic Wine also hit record lows on Monday, with shares down 11%, after it revealed profits had halved in the first six months. The stock soon rebounded, however, as investors reacted positively to CEO Rowan Gormley's three-year turnaround plan. It reached highs of 358p on Wednesday - a 30% rise on the 275p Monday morning low.