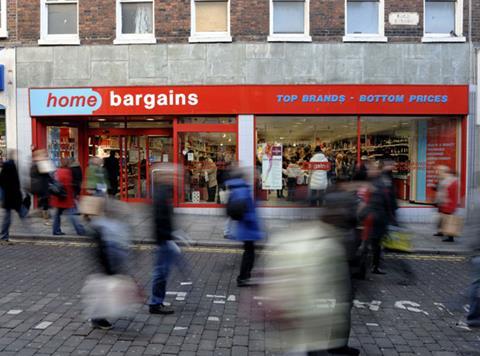 Home Bargains is to become the latest retailer to introduce traffic lights at store entrances to control shopper numbers during the pandemic.
The automated lights will use motion sensors to simultaneously count people leaving and entering and ensure the number inside is within the store's capacity under social distancing guidelines. They are to be installed at all 550 of the variety discounter's stores across the country.
According to Hitachi, which developed the system, it can also track a customer's journey around a store by detecting human shape and movement.
A growing number of retailers are using traffic lights to control shopper numbers in the pandemic. Aldi began rolling them out to stores nationwide in May. Some Co-op and M&S Simply Food forecourt stores also have them.
"Over the past few months, retail environments have changed, and we've had to quickly adapt to new ways of operating," said Home Bargains director of innovation Joe Morris.
"New, innovative technologies have played a significant part in us still being able to provide a safe and pleasant shopping experience for our customers."
Hitachi Europe digital media group general manager Roland Fritsch said: "We're optimistic this project will be a great success and provide more opportunities for further R&D collaboration."