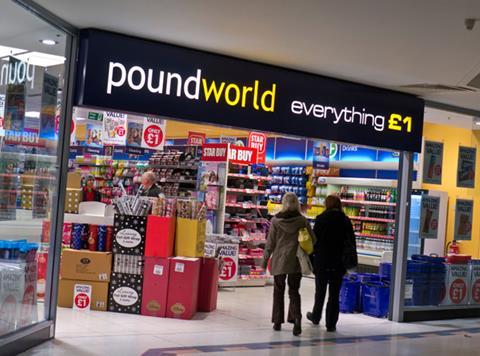 Iceland has agreed to acquire 19 former Poundworld stores.
It plans to turn 15 of them into Iceland stores, with the other four set to be converted into The Food Warehouse.
"These are all expected to open next year," an Iceland spokesman told The Grocer.
Poundworld's administrators, Deloitte, confirmed a deal for the 19 stores had been agreed, which would now be completed on a site-by-site basis subject to approval from individual landlords.
The stores set to be bought by Iceland are the only ones from the former Poundworld estate to have their leases transferred. The rest had been surrendered back to landlords, Deloitte added.
No rescue deal
It comes after final Poundworld store closures went ahead as planned by 10 August, despite reports that 50 could be saved at the last minute.

Hopes were raised by reports earlier this month that the business had been bought by an Irish family. However, the deal was never completed.
"We had an agreement in principle, but the sale didn't go through," a spokesman for Deloitte said. "Following the closure of all stores, the administrators are actively seeking offers for the sale of the Poundworld brand and related intellectual property."

Poundworld had 335 stores and employed around 5,100 people when it went into administration on 11 June.

Reports of a reprieve followed a statement issued on 9 August on behalf of the Dublin-based Henderson family that said: 'Poundworld UK has been purchased by an Irish family with over 40 years' experience and a proven track record in the low-cost retail business.'
Ray Henderson founded an unrelated chain called Poundworld in Ireland in 1984 before selling it in 2007. Negotiations with Deloitte were led by his son David, according to the statement.

'Mr David Henderson, whose family was behind Ireland's original low-cost retailer, Poundworld, confirmed that their offer has been accepted by Deloitte, the administrators, to purchase the best and remaining stores for an undisclosed sum,' the statement added.

It also included a quote from David Henderson saying: "We are delighted to have agreed the purchase of Poundworld and we now look forward to bringing the company back to profit and provide current and new customers with an unrivalled product offering at low prices."

The family did not comment this week.

The Grocer reported on the day of the family's statement that sources close to Deloitte had urged caution over the reports, saying the deal was in principle only and for 35 stores without stock or staff, meaning redundancies would go ahead.