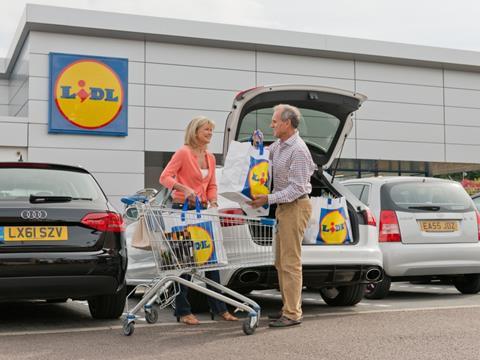 Lidl has hiked its UK sales by £700m to a record £4bn for the 2014 financial year as more shoppers desert the mainstream grocers for the discounters.
The value chain has also revealed plans to build a new headquarters in Tolworth in South West London after buying five acres of land owned by Kingston Council for £10m.
Lidl said the 21% jump in revenues for the 12 months to the end of February was the result of attracting new shoppers into its stores, as well as higher spending from current customers. The UK business also exported £30m of British cheese and £100m of Scottish whisky to other Lidl stores across Europe during the period. It does not publish full accounts so no profit figures are available.
"We are firmly committed to helping boost the British economy by sourcing from the UK"

Ronny Gottschlich, Lidl UK CEO
"We've had a phenomenal increase in sales over the last 12 months, which is not just encouraging for us, for our employees and for our suppliers but also for the areas that we continue to invest in with new stores and warehouses – and now with our new head office," UK CEO Ronny Gottschlich said.
"We are firmly committed to helping boost the British economy by sourcing from the UK and continuing to create new jobs for local people. We're a smart and adaptable business and, after our most successful year yet, we're investing back into the business and into our employees. That way, we can ensure that we have the solid foundations we need to continue to serve our ever-growing customer base who have, quite rightfully, come to expect the very best from us. Our intention is to consistently surprise our customers and continually exceed their expectations."
Lidl, which has been searching for a new base since February 2014, expects to move from its current 38,000 sq ft head office in Wimbledon to the new 220,000 sq ft HQ in Tolworth by the end of 2018. The new building will have room for more than 750 staff, an increase from the 400 currently working at the Wimbledon site giving the supermarket room for continued future growth.
Ingo Fischer, director of property and development, added: "We are delighted to announce our relocation, which marks another milestone in providing the infrastructure needed to cope with our ambitious store expansion programme.
"The extra office space will ensure room for further development within our head office departments and will provide top-of-the-range amenities, along with excellent training and conference facilities."
Lidl, which was recently named Grocer of the Year at The Grocer Gold Awards, increased sales in the 12 weeks ending 21 June by 9.1%, pushing it to a record market share of 3.9%, according to the latest Kantar Worldpanel data.
It currently has 620 stores in its estate, with plans to eventually expand to 1,200 stores.