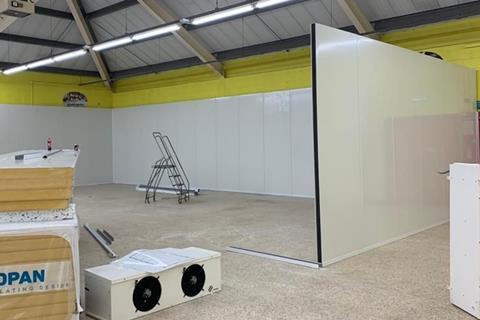 New discount food retailer Mere is looking for landlords across the country as it plans its expansion in the UK.
The Russian-founded chain, which The Grocer last week revealed was set to open its first four UK stores this summer, has published a wish list of further locations.
The business is appealing for landlords to contact it via its website.
"We are looking for suitable locations across UK to expand our retail chain," the site says. "At the moment, despite coronavirus, we are actively involved with landlords, their representatives and agents with the aim to open our Mere retail stores ASAP."
The locations listed are Devon, Stockport, Neath, Banbury, Selby, Bradford, Middlesbrough, Grantham, Kettering, Plymouth, Beckenham, Gloucester, Northampton, Cardiff, Oswestry, Barnsley, Sheffield, Exeter, Stretford, Southampton, south Scotland and Wales.
The discounter is looking for sites of around 10,000 sq ft, with parking spaces for 30-40 cars and a local population of 60,000 or more.
Mere is already in talks with suppliers over its first four planned UK stores, with the first set to open in Preston next month. It is to be followed by a second site in the north of England, in Castleford, and two in Wales, in Mold and Caldicot.
The retailer trades as Svetofor in Russia, where it was founded in 2009. It has about 3,200 stores internationally and has been opening in Europe since 2018 under the name Mere, including in Germany, Poland, Romania, Lithuania, Latvia and Ukraine. As well as the UK, it plans to soon enter Italy, Spain, Greece and Bulgaria.
The company claims it will undercut existing UK discounters by 20%-30%, thanks to a no-frills model that sees suppliers deliver directly to stores and goods sold from pallets. Stores feature a walk-in chiller room, and only eight staff to keep costs down.
The website also features a page looking for shopfitters, listing some of the prices paid, including £400 for "used freezers" and £50 for "shopping carts".
The appeal for UK landlords and shopfitters was spotted by Grocery Insight director Steve Dresser following The Grocer's story on Mere's UK plans last week. "Tight costings on the shop fitting," Dresser tweeted.
"They certainly seem to know what they are doing in this regard. Best of British to them."
Mere UK head of buying Pavels Antonovs last week told The Grocer the chain would fill a "gap in the market" in the UK, with no competitors.
Each store is to have a maximum of 1,200 SKUs, including ambient, chilled and frozen, but with no "fast perishable goods" such as bakery, the website says. Newspapers, magazines and "premium goods" will also be absent.
Tight costings on the shop fitting.

They certainly seem to know what they are doing in this regard. Best of British to them. pic.twitter.com/009Xlyr4Pb

— Steve Dresser (@dresserman) May 8, 2021