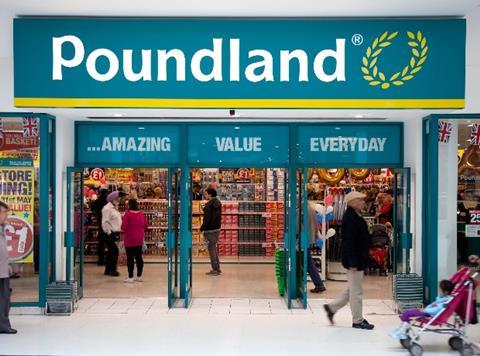 Poundland owner Pepkor Europe has changed its name to Pepco Group, as it gears up to become "Europe's largest discount variety retailer".
The move, the group said, will directly link the business to its Central Europe operations, and reflects the fact that "the majority of its business is in Continental Europe".
"The renaming of our business follows another successful year for all our trading brands," said Pepco Group CEO Andy Bond. "At the Group level we anticipate EBITDA will increase by 18% year on year, giving total growth over the past three years of 140%."
This year's expected profit growth is significantly lower than the previous four years, in which profits have risen by an average of 30%.
The group doesn't have far to go to become the largest discount variety retailer in Europe. Last financial year (2017/18), its sales rose to €3bn, and they are expected to hit €3.4bn in FY 2018/19. B&M, currently the largest, reported sales of €3.5bn in FY 2018/19.
Pepco Group owns three discount variety fascias, Pepco, Dealz and Poundland, as well as a budget fashion brand, Pep & Co, and a global sourcing company, PGS. It operates through 2,698 stores across 14 countries, employing more than 33,000 staff members.
Its focus across the business is on opening new stores, especially in continental Europe, with an ambition to increase its store estate to 4,000.
Poundland has 840 stores in the UK and the Republic of Ireland. Its estate is unlikely to change in overall terms. However, Bond said he wanted to increase the size of stores where possible. "I don't understand the need to go smaller," he said at a media briefing.
Dealz exists in Spain and Poland, with 53 stores. It wants to expand to 90 shops in Poland by end of the next FY, and 350 by end of 2024. It also wants to increase its Spanish store count to 50.
Pepco, which chief operating officer Sean Cardinal described as the "jewel in the crown of Pepco Group", has 1,805 stores across 11 territories, selling apparel and general merchandise. The group said it sees "significant roll-out potential" within its existing markets in Central Europe, said Cardinal, with a plan to expand to increase its store count to 2,855, establishing 300 stores a year over the next 3.5 years.
The group has "no immediate plans" to sell online, said Bond, at a media briefing.
The change of name follows a tough year for Pepkor, which became embroiled in an accounts scandal surrounding its South African parent company Steinhoff. The South African financial regulator fined the troubled retail giant a record 53 million rand (£2.8m) for failing to fully disclose accounting problems in late 2017.
When asked whether the name change was a move to distance itself from its flailing owner, Bond denied that this was the case.
Steinhoff giant is reportedly readying a €4bn sale or float of Pepco Group. At the briefing, Bond refused to substantiate the claim. "There is no pressing need for us to get sold," he said. "We can build a great business here or we can build a great business under different ownership."
Bond acknowledged that "any ownership change would potentially accelerate the improvement in trade credit insurance", but, he added, "it is not going to fundamentally change that". "We're now in a stable position and one that is, arguably, slightly improving".
Poundland's rating with credit insurers has suffered in recent years because of its association with Steinhoff.