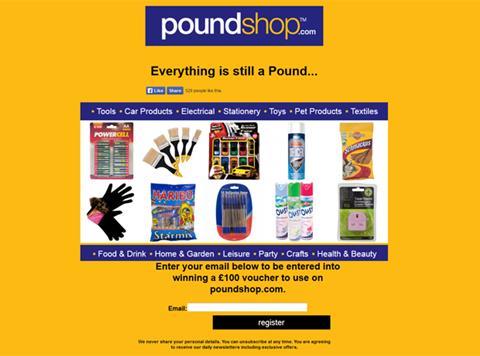 Poundworld is still having difficulties with its transactional site, more than two weeks after its launch.
The Poundshop.com site, which launched on 11 February – and crashed later that day due to "unprecedented" traffic – has been unable to load since it featured last night on an episode of the BBC's Pound Shop Wars, and is still down at the time of writing.
A spokeswoman for Poundworld confirmed the site had crashed after it was overwhelmed by hits to the site following the BBC show. "We had phenomenal amount of traffic – Pound Store Wars had five million viewers last night. At one point the site was getting as much hits as the UK version of Facebook."
In tweets posted online, the retailer told customers: "We're currently experiencing a very high volume of traffic and are working to resolve the issue ASAP. Thanks for bearing with us."
Poundshop.com was designed to enable Poundworld to trade in areas where it does not have a geographical location. The website lists more than 1,000 products and is intended to offer as a "simple and convenient service that will deliver incredible value goods direct to the customer's door", according to Poundworld. It has a minimum order of £10 and a flat delivery fee of £3.65.
In January, Poundworld reported a 34% drop in annual pre-tax profits, with total sales up 42% to £294m.