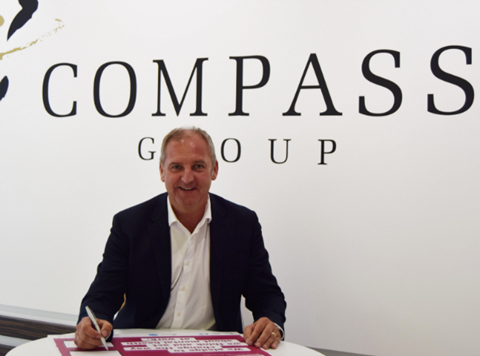 Compass is launching a mental health awareness campaign to support its staff.
The catering company has introduced 90 wellbeing ambassadors selected from across the business to raise awareness, encourage open conversations and reduce the stigma surrounding mental health in the workplace.

It has also signed mental health charity Time to Change's pledge, which is designed to change perceptions of mental health and support employees.
In addition, Compass has rolled out a new set of guidelines to support and promote better mental health across the business.

The move coincides with World Mental Health Day.

"We are extremely proud to have signed the Time to Change pledge and are absolutely committed to raising awareness around mental health and further enhancing a supportive and open working environment through our own campaign," said Compass Group UK & Ireland MD Chris Garside.

"Experiencing mental health problems is something that any one of us can go through at any point and as a business with around 60,000 employees it is essential that we provide the support needed by our colleagues in the workplace. We hope the work we are doing will go a long way in encouraging and promoting positive mental health."
"It's fantastic to see organisations like Compass Group UK & Ireland taking the lead," Time to Change director of operations Jo Loughran added.

"Many leading employers have found that making a strategic commitment to the mental wellbeing of their workforce not only benefits their staff but also their bottom line, improving productivity and staff retention. With one in six British workers experiencing mental illness it's time for businesses to make a change and start creating more mentally healthy workplaces."

Last month, Compass Group's educational catering branch Chartwells partnered with mental health charity YoungMinds. Chartwells is encouraging educational establishments across the UK to get involved with the charity's #HelloYellow campaign as part of World Mental Health Day.