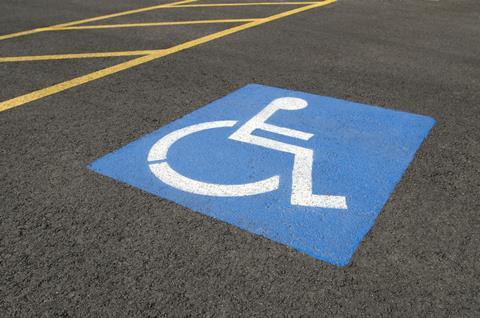 One of the less well-publicised effects of the pandemic has been the impact of social distancing measures, new store layouts and the growth of online shopping on disabled customers.
One-way systems, narrower aisles and new permanent fixtures are necessary to comply with the government's social distancing rules and new health & safety standards, but this can make shopping even harder than it was previously for people with a disability.
When it comes to online shopping, there has been even more competition for key items and delivery slots, and websites aren't necessarily designed with everyone in mind.
Purple Tuesday – held on 3 November and run by the charity Purple – aims to inspire retailers to enhance the shopping experience for disabled customers – who with their families have a combined spending power of £274bn – and the pandemic makes this year's event even more pertinent.
The grocery sector has done a lot in this field – as part of Purple Tuesday and beyond – but the impact of the pandemic is such that even those with the most sophisticated approach to disability inclusivity will want to review their policies and measures and make any necessary adjustments. Not to detract from the important customer-focused message of Purple Tuesday, this of course extends beyond supporting customers to staff as well.
Is now the time to push this up the agenda? Even before the pandemic, our research revealed that many retailers were reconfiguring their stores in response to customer demand for enhanced experiences and new ways of using this prime real estate. This month, our research reveals that the majority of retailers are reconfiguring their businesses because of the pandemic.
In a period of momentous change, it seems like this could be an opportune time for retailers to reconsider their business plans with a renewed emphasis on disability inclusivity, and there's an abundance of commercial and social incentives for doing so.
The 'purple pound' – the collective spending power of disabled people and their families – continues to rise 14% per annum. Advances in disability inclusivity could also be a powerful market differentiator, with Purple saying that less than 10% of organisations have a targeted plan to access the disability market.
When making inclusivity-led alterations to stores – such as widening entrances, moving walls or creating more open and fluid spaces – most retailers occupy their premises under a lease and in practice, this prohibits some alterations and requires landlord consent for others. Even so, legislation such as the Equality Act 2010 may provide tenants with a route to making any alterations needed to support disabled staff and customers. This does not dispense with the need for other types of permission that may be required, such as planning permission, listed building consent or a variation to an alcohol premises licence and demands a thorough initial assessment.
On another level, our latest research also reveals that 40% of food and grocery retailers think it's becoming harder for retailers to attract and retain staff. With equality, diversity and inclusion continuing to rise up the socio-political agenda, a genuine commitment to these values is something staff and customers – disabled and able-bodied alike – will appreciate.
At times like this, social issues can either gain momentum or be overshadowed by other concerns, but the incentives are undeniable and recent changes to equalities law would suggest that these issues will continue to become more present in the social, political and business psyche.