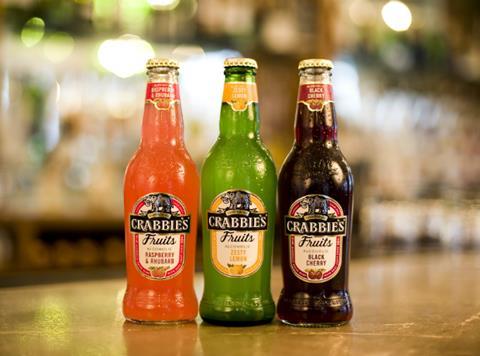 Halewood Wines & Spirits has ditched the fruit-flavoured part of its Crabbie's portfolio in its latest bid to halt faltering sales of the brand.

The company told The Grocer it had decided to stop producing all of its non-ginger Crabbie's drinks 12 months ago, with the last products now gone from shelves, to "solely focus" on its core ginger-based drinks.

The move forms part of Halewood's strategy to reverse a 21.6% drop in Crabbie's sales to £15.9m last year on volumes down 21.8% [IRI 52 w/e 13 August 2016].

The ambition was to return the brand to growth by the end of 2017, said senior marketing controller Michelle Chadwick, and eventually replicate Crabbie's growth in the on-trade. "We are striving to improve distribution and rate of sale throughout the off-trade."

In addition to refocusing on its ginger range, Halewood would be rolling out a new food pairing initiative in the next quarter to highlight how Crabbie's could be paired with food and used as an ingredient in "select key dishes", said Chadwick.

"We have created four brand pillars for Crabbie's to accurately reflect the brand's consumer offering - craft & heritage, food pairing, gluten-free and rugby."

Halewood launched Crabbie's fruit-based alcoholic drinks range in March 2014, comprising three 4% abv drinks containing up to 10% fruit and free from artificial colours and flavours.

The trio marked the first off-trade alcoholic drinks under the Crabbie's banner that did not contain the brand's signature ginger.

Over the past year, Halewood has made several other attempts to revive flagging sales, launching Crabbie's Light - a 2.8% abv version of the alcoholic ginger beer that contains 50% less ginger - as well as 250ml can and 500ml RTD bottle formats.