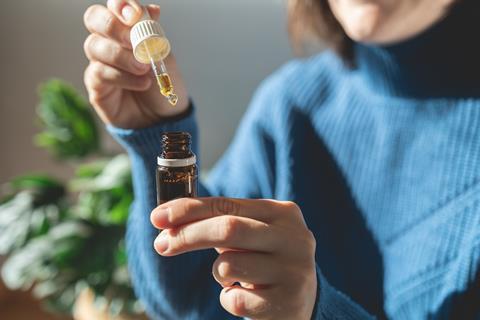 The Home Office is to bring forward legislation that will set a limit on the amount of THC permitted in CBD products.
This week, the government issued its long-awaited response to the Advisory Council on the Misuse of Drugs (ACMD) proposals for CBD products.
It said it would bring forward legislation to implement the ACMD's proposals, which were first published in December 2021.
It accepted the ACMD's recommendation that the total dose of THC and all other controlled phytocannabinoids in CBD products be limited to 50 micrograms (µg) per serving.
Five milligrams (mg) of THC is defined as one standard THC unit – a low dose that can produce mild psychoactive effects. A non-psychoactive dose of THC is defined as 1mg, or 20 times the 50µg limit recommended by the ACMD.
Some CBD products on sale in the UK contain trace levels of THC due to the difficulty of isolating CBD from other cannabinoids.
ACMD analysis suggests that for a 0.5ml serving of CBD oil to contain less than 50µg THC, it would need to be made up of no more than 0.011% THC. A 500ml drink would need to contain less than 0.0000095% of the substance.
The Home Office acknowledged the unit of consumption or serving of CBD would "differ between different products", adding any legislative proposal would "require further careful consideration".
Leading CBD brand Trip states its products are THC-free.
The acceptance of the ACMD's proposal is seen as a significant step towards creating a legal framework for CBD producers in the UK to work within.
Presently, CBD products are allowed to be sold in the UK if they have a novel foods application with the Food Standards Agency (FSA) and are listed on the organisation's public list.
The FSA has indicated it is awaiting an amendment to the Misuse of Drugs act to move products on the list to full authorisation.
The Association for the Cannabinoid Industry (ACI), which in August launched a campaign urging the Home Office to update the law, said it remained "imperative" a legal framework was introduced.
It added this would provide "comfort for companies operating in the space and reassurance for consumers and retailers".
"That this will also help accelerate the regulatory process that businesses have invested in only adds to the importance of the explicit commitment to bring forward the necessary amendments to the Misuse of Drugs 2001 regulations," ACI co-founder Steve Moore added.
It comes after a fortnight in which CBD has dominated news headlines, after the FSA slashed its acceptable daily intake guidance from 70mg to 10mg.
Products from many of the leading brands – including drinks from Trip and gummies from CBDfx – contain more than 10mg per serving.
Products from these brands were temporarily removed from Holland & Barrett shelves following the announcement, before being reinstated this week.