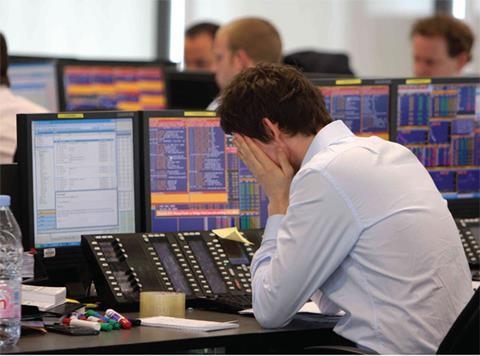 Global markets have crashed on what's being dubbed as another "Black Monday" on the stock market, with the FTSE 100 down to its lowest level since 2012.
At the time of writing the FTSE 100 is down 3.9% on Monday to 5,944.9pts – now down more than 15% since breaking the 7,000pts barrier in April.
The Shanghai Stock Exchange Composite Index was down 8.5% and took most global indices with it, including the US S&P 500 (down 3.3% to 1,906pts), the German Dax (down 5.9% to 9,524.5pts) and the French CAC (down 4.6% to 4,418.4pts).
There was widespread market chaos today and red numbers across the board, but the extent of company's share price falls perhaps hint at how the economic chaos emerging from China might affect some of the key players in the global grocery market.
So how hard have the UK's grocery companies been hit today?
The supermarkets have had an awful run of late – Morrisons (MRW) and Sainsbury's (SBRY) are currently running around 11% down over the past month, while Tesco (TSCO) has lost over 17% of its value.
But the listed grocers were amongst those to sustain the least damage of the UK's biggest corporates today. Morrisons was the fifth lowest FTSE 100 faller, dropping just 1.4% to 163.4p, while Sainsbury's was still towards the lower end of fallers, dropping 2.8% to 232.9p. Tesco fell a more significant 3.7% to 181.2p, though was down as low as 175.8p by mid-afternoon.
Although reaching definitive explanations for share price movements is usually an inexact science, Tesco's larger fall looks related to issues around the sale of its South Korean business rather than a specific exposure to China. Reports over the weekend suggested Tesco will raise less money than the $6-7bn hoped because of the rising value of sterling against the South Korean Won. After the Chinese stock market falls, the pound rose further against the Won today – hitting a record high of KRW1903.8 by mid-afternoon before settling back KRW 1878.8.
The relatively benign performance of Morrisons and Sainsbury's points to the theory that the China-drive economic strife might not be overly negative for UK consumers.
The Western companies most disproportionately affected are those in the mining and oil sectors, due to China's vital role in the natural resources commodities market. Subsequently the price of oil has fallen and is expected to remain subject to downwards pressure – which is potentially boosts the spending power of the average consumer. Consumers could also be helped by the crash taking away momentum behind an imminent interest rate rise.
Conversely, the news could add to overall deflationary pressure in the West, meaning the problem of food price deflation may hang around for a longer period of time.
Additionally, retailers source an increasing proportion of goods from emerging markets in general and China specifically. The uncertainly over the Chinese economy and, as a result, Chinese manufacturing helped eased general discounter stocks B&M European Value Retailer (BME) and Poundland (PLND) lower by 6% to 316.9p and 5.6% to 330p respectively.
There was something of a mixed picture for grocery suppliers too today, though there were clearly falls across the sector.
Those companies suffering most today looked to be exposed to wider-sectors that are under pressure or have relatively significant sales in China themselves.
Consumer goods have generally escaped the worse of the chaos, but luxury brands – reliant on demand from China – have been hammered. BMW is down 16.2% over the past month, while LVMH is down 16.1% and Burberry 12.6%.
This potential stunting of emerging market thirst for up-market items perhaps helps to explain premium drinks mixer Fever-Tree dropping 8.2% today to 421.2p and Pernod Ricard (EPA) was also 7.5% down to €91.34. Diageo (DGE) – down 12.2% over the past month – dropped a more modest 2.2% to 1,647p today.
Other global suppliers selling into China were hit today, including British American Tobacco (BAT) (which has a joint-venture in the world's biggest cigarette market), down 4% to 3,358p, producer of China's biggest beer SABMiller (SAB) was down 3.5% to 2,916.2p and Reckitt Benkiser (RB), which has benefited from strong recent growth in China, fell 3.5% to 5,529p.
Also badly affected were those companies reliant on strong sales in countries where natural resources drive their economies – notably Russia. Eastern European-centric Coca-Cola bottler Coca-Cola HBC (CCH) dropped 7.3% today to 1,255p, while Carlsberg, which has Russia as its biggest market, has plummeted 19% over the past month and 3.9% today to DKK495.
The recent falls of the UK-listed supermarkets have hit UK-centric suppliers too, such as Premier Foods (PFD) which fell 3.6% today to 34p and is now down 12.2% over the past month.
Finally, one company wondering what all the fuss was about today was newsagent group McColl's (MCLS), which was 3.2% up today to 145.5p – though it has still dropped 5.2% over the past month.