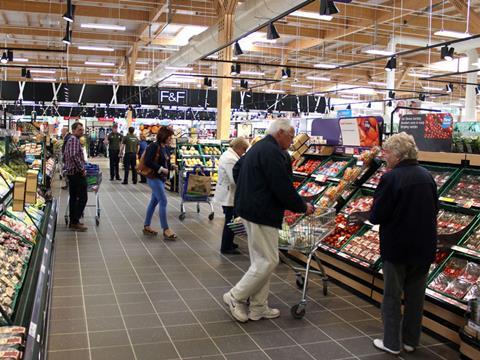 Top story
UK retail sales rose by 0.9% year-on-year in July as strong food sales supported weakening overall sales growth, according to the latest BRC-KPMG Retail Sales Monitor.
Sales were up by 0.9% on a like for like basis in the four weeks from 2 July to 29 July compared to the previous year, when sales were up 1.1%.
The 0.9% figures is also down on the 1.2% like-for-like growth seen in June, which was boosted by the good early summer weather.
Total sales were up 1.4% year-on-year compared to growth of 1.9% in the corresponding period last year.
Over a three month period, food sales increased by 2.3% on a like-for-like basis and by 3.4% on a total basis, though this is slightly down on the 3-month average to June 2017.
Non-Food retail sales in the UK decreased by 0.7% on a like-for-like basis over the three month period and by 0.4% on a total basis
In-store sales declined 2.6% on a total basis and 3.0% on a like-for-like basis over the three months.
BRC chief executive Helen Dickinson commented: "Given the strong performance of the same month the previous year, the figures are fairly solid. Closer inspection of the headlines however unveils some familiar challenges. The month's growth was underpinned by food sales alone, while non- food sales relapsed into negative territory as the competition heats up over a shrinking pool of discretionary consumer spending power."
"Against a backdrop of increased consumer borrowing and shrinking real wages, we can expect food to continue making the running for sales growth for the time-being, although driven more by price than volume, with non-food continuing to struggle. The tough outlook for customers means that ensuring that prices remain low and choice and confidence remains high lies at the heart of what a fair Brexit for consumers looks like. So ensuring tariff-free trade with the EU must be the focus for Government as it resumes negotiations at the end of this month."
Paul Martin, KPMG's UK head of retail, added: "July retail sales diverge from the latest consumer confidence figures, which noted a downturn in consumer sentiment. This divide suggests that UK shopping patterns remain mixed, although with demand continuing to be weak, retailers would be wise to remain cautious."
Morning update
UK pet superstore group Pets at Home Group (PETS) saw 5% sales growth to £256.5m in the 16 weeks to 20 July compared to the same period last year.
Group like-for-like revenue growth was 2.7%, reflecting strong growth in first opinion and specialist referral vet services, and a continuation of positive momentum in merchandise trading. Merchandise sales were up 2.8% in the period to £216.4, with like for like growth in the division at 1.5%.
The group also saw strong omnichannel revenue growth of 80%, with around 60% of omnichannel revenues involving colleague assistance or the use of a Pets at Home store, through click & collect, order-in-store and subscription services
During the period it opened five Pets at Home superstores, two Vets4Pets practices and six Groom Room salons. The company said it is on track to deliver full year opening targets of around ten superstores, 40-50 vet practices and 40-50 grooming salons.
CEO Ian Kellett commented: "We are pleased with our positive start to the year, delivered through another period of strong growth in our Vet Group and further momentum in Merchandise trading.
"We have continued our everyday lower price repositioning and reduced the reliance on short term promotional discounts. We remain encouraged by the overall response to our pricing changes and by the number of both new customers and those we have welcomed back.
"Whilst it is still early in the year, the financial outlook is in line with our expectations. We are confident the investments we are making to grow our veterinary business and to reposition our pricing and deliver everyday value for our customers are creating a strong platform for sustainable future growth."
Worldpay and Vantiv have requested more time from the UK takeover authorities to finalise the terms of their £9bn merger.
The pair have agreed the key terms of the of deal, but today brings a 5pm deadline for Vantiv to announce its firm intention to make an offer.
Worldpay said "positive discussions are continuing" between the pay, but it has requested the Panel on Takeovers and Mergers extend this deadline to 5pm on 11 August.
The announcement of Worldpay's half year results for the period ended 30 June 2017 will now take place tomorrow morning.
On the marks this morning, the FTSE 100 is largely flat at 7,528pts.
Pets at Home has jumped 6.6% to 184.1p on the back of this morning's strong growth figures. Worldpay is up 1.1% to 376p.
Other movers include McColl's Retail Group (MCLS), up 2.3% to 255.8p, McBride (MCB), up 2.1% to 199.8p, while Hotel Chocolat (HOTC), is down another 3.3%, Booker (BOK) has slipped 1.4% to 196.9p and Ocado (OCDO) has fallen another 1.2% to 303.2p.
Yesterday in the City
The FTSE made a positive start to the week, rising 0.3% to 7,531.9pts yesterday.
Coca-Cola HBC was the major grocery mover amongst the FTSE 100, rising 1.8% to 2,390p ahead of its trading update later this week.
Also on the rise were WH Smith (SMWH), up 0.9% to 1,836p and Unilever (ULVR), up 0.8% to 4,393p.
Worldpay (WPG), was up 1.5% to 376.6p ahead of the finalisation of its £9bn takeover, while CARR's Group (CARR) was up 3.7% to 146.8p after announcing a US engineering acquisition yesterday. AG Barr (BAG) also rose 1.6% to 650p, while Real Good Food (RGD) recovered some of its lost ground from its profits warning last week, rising 3.6% back to 21.5p.
Fallers included Ocado (OCDO), down 1.8% to 306.8p, Imperial Brands (IMB), down 1.2% to 3,267p, Greencore (GNC), down 1.1% to 222.1p and Dairy Crest (DCG), down 1.1% to 594p.
Sainsbury's (SBRY) was down 1% to 250p after weekend reports it has hired management consultants to slash a further 1,000 head office jobs.
Also down were Crawshaw Group (CRAW), down 7.5% back to 21.5p, Hotel Chocolat (HOTC), down 3.5% to 286.5p and Science in Sport (SIS), down 2.2% to 89p.