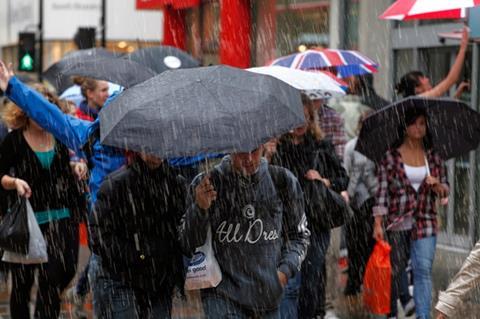 Top story
UK retail footfall fell back in October as wet weather and the ongoing cost of living squeeze hit shopper numbers.
According to data from BRC-Sensormatic IQ total UK footfall fell back 5.7% in the four weeks to 28 October, which represented a further fall from the drop of 2.9% in Septmeber.
Footfall was down across all locations during the month.
High street footfall fell back 4.6% from 1.7 in September, retail parks were down 4.3% from 2.4% last month and shopping centres fell back 7.3% from a 4% drop a month ago.
Of the UK nations, England saw the least significant year-on-year drop in footfall, showing a decrease of 5.3%. Scotland saw a drop in footfall of 1.4%. This was followed by Wales at 5.6% and Northern Ireland at 6.8%.
BRC CEO Helen Dickinson commented: "Umbrellas were up as heavy rainfall descended across the UK in October, leading many shoppers to stay at home. As inflationary pressures on households begin to ease, some people are shopping around slightly less, braving the rain only to make their final purchases. This led to a larger year on year drop in footfall in all shopping locations than we saw in September.
"While consumer confidence may be higher than 2022 it is still very weak, dropping over the last month. The economic landscape remains tough, with input prices and cost pressures above normal levels. Retailers are investing heavily in their Christmas offering – trying to provide the best value and service for their customers. The Government must ensure it does not unnecessarily burden retailers with additional costs and the Autumn Budget offers an opportunity to avoid a £470m-per-year business rates rise, which would push up prices and limit industry growth."
Andy Sumpter, Retail Consultant EMEA for Sensormatic Solutions, added: "October saw overall footfall decline again year-on-year, off the back of subdued September figures, with shopper traffic regionally impacted by Storm Babet which delivered the most severe and widespread disruptive weather of the year to date. The ongoing cost-of-living pressure continues, despite inflationary easing, to impact shopper behaviour through October.
"Our destination data seems to show that consumers are visiting fewer stores during each trip. This suggests a move away from shopping around for the lowest prices and best deals toward more focused purchasing as consumers become more accepting of the current reality of paying more to buy less.
"With this in mind retailers must capture customer loyalty and spend as early as possible. As we head into the critical Christmas purchasing period the focus must be on optimising their online presence or creating engaging experiences that can entice passing trade in-store to be converted into sales."
Morning update
The Grocer will publish the 2023 Grocer/OC&C Top 150 review of the largest food and drink suppliers later today.
The rankings have seen Hilton Food Group retake the top spot as the UK's largest food and drink supplier from Associated British Foods with annual revenues of £3.8bn.
Over the index, growth rose a multi-year high of 6.1% due to price inflation, but margins fell to their lowest level in the 30-plus year history of the report as cost inflation was not fully passed on.
Read the full findings later today on thegrocer.co.uk/finance
Yesterday in the City
Sainsbury's shares jumped 4.4% yesterday to 273.3p after the supermarket said profits would come in at the upper end of expectations amid double-digit first half grocery growth and strong gains in market share.
The FTSE 100 as a whole was also strongly up, rising 1.4% to 7,446.5pts on hopes interest rates have peaked after the Bank of England left rates unchanged yesterday.
Other risers yesterday included Ocado, which bounced back 7% from recent drops to 509.2p, Just Eat Takeaway.com, up 6.3% to 1,068p, Pets at Home, up 4.8% to 296.8p, Naked Wines, up 4.5% to 45.9p, Greggs, up 4.2% to 2,494p and Deliveroo, up 3.8% to 138.1p.
The day's fallers included consumer health player Haleon, which dropped 3.3% back to 320.2p after releasing its third quarter results.
Other fallers included Bakkavor, down 0.9% to 85.6p, Coca-Cola HBC, down 0.9% to 2,104p and Marks & Spencer, down 0.5% to 222.9p.