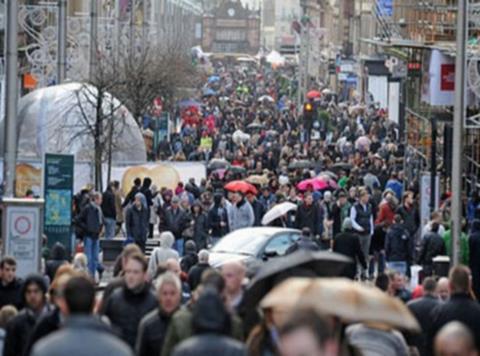 Top story
Footfall across UK retail destinations fell 2.5% over the Christmas period, with Black Friday and Boxing Day sales events failing to drive customers to the UK's shops.
The Springboard Footfall Monitor & Insights data showed a 3.5% slump in high street footfall for the five weeks from 24 November to 28 December, while shopping centre traffic was down 2.1% and in retail parks down by 0.5%.
The fall was despite Black Friday falling within the Christmas trading figures, owing to the later than normal Thanksgiving Day holiday in the US which proceeds the November sales event.
Black Friday helped footfall increase by 0.1% in the first two weeks of December, but the final two weeks saw a 6.1% slump in footfall compared to a 2.2% decline in the same period last year.
Springboard Marketing & Insights Director Diane Wehrle said: "The 2.5% drop in footfall across UK retail destinations during December was not a surprise as footfall has declined in December in all but one year since 2009.
"The challenge for destinations and stores was not only that this was the eighth consecutive year that footfall has decreased in this key trading month, but that it was also at the upper end of the scale in terms of the magnitude of decline.
"Today's rather circumspect consumer was clearly demonstrating considered restraint towards their lifestyle and spend decisions over the Christmas period. The growing climate change movement and increased consumer concerns around waste and sustainability is likely to have further limited trips to destinations to make non-essential purchases, thereby diluting footfall even further."
Morning update
Grocery spend in Ireland hit €1.2bn in the four weeks to 29th December 2019, as Irish shoppers spent an additional €32.5m over the Christmas period in comparison to the same time last year, according to Nielsen.
Thanks to Christmas falling on a Wednesday, the Irish market experienced a sharp increase in grocery sales closer to Christmas day, rising by 15.3% in the week ending 29 December, in comparison to the same period in 2018.
As a result, over the four weeks to 29 December, Irish shoppers over the four week period spent 2.7% more on groceries than they did during Christmas 2018. This incremental spend saw the average grocery spend per week per household increase from €165 to €182 per week in December 2019.
The best performing category was chilled groceries (+4.2%), which gained €9m in sales in the last four weeks, as well as frozen (+4.3%) and bakery (+4.1%). Pet food (+5.2%) also experienced an uplift, as well as confectionery (+3%).
Alcohol, which is usually an area of strong growth over the Christmas period, saw a decline of 2.9%, with sparkling WINE and champagne experiencing the biggest decline of 11.3%. In contrast, sales in non alcoholic and low alcoholic beer grew by 27.2% in comparison to December 2018, valuing the market at €795k in the last four weeks to 29th December.
In terms of retailers, combined market share for the discounters Aldi and Lidl increased by 4.5%, whilst multiple retailers, which include Tesco, Supervalu, Eurospar and M&S saw an overall small value decline of 0.2%.
Karen Mooney, Ireland market leader at Nielsen, said: "The Irish market has benefited from a strong festive sales boost over the Christmas 2019 period, with shoppers spending an additional €32.5m in comparison to Christmas 2018.
"However, there also appears to be a shift in shopping behaviour, as Irish consumers opted to spend less on alcohol and more on low or no alcohol products, which could be a reflection on wellness trends. Alternatively, Irish consumers may have shifted spend in other areas, choosing to invest heavily in their pets (+5.2%) this Christmas. This is a reflection on consumer trends towards pet humanisation, as we look to treat our pets more as family members and spend more on them."
On the markets this morning, the FTSE 100 has opened the week up 0.5% to 7,622.5pts.
Early risers include Bakkavor, up 2.8% to 140.6p, Eagle Eye Solutions, up 2.6% to 240p, PayPoint, up 1.6% to 1,048p and WH Smith (SMWH), up 1.5% to 2,514p.
Fallers include Kerry Group (KYGA), down 0.8% to €114.00, Glanbia (GLB), down 0.7% to €10.24 and Associated British Foods (ABF), down 0.7% to 2,604p.
This week in the City
After last week's flurry of Christmas trading updates, we look to be in for a quieter week of announcements in the City.
There are still a number of trading updates that will include the Christmas period, starting with Associated British Foods (ABF) and its first quarter sales update on Thursday.
Finsbury Food Group (FIF) is also set to release its interim sales and revenue update for its 2020 financial year on Thursday.
Friday will see a third quarter trading update from Premier Foods (PFD).
Internationally, French grocery giant Casino will post its full year sales on Thursday, while German consumer group Beiersdorf will release its third quarter sales on the same day.
In economic news, Wednesday brings the UK's monthly inflation figures, while the official ONS retail sales for December are released on Friday.