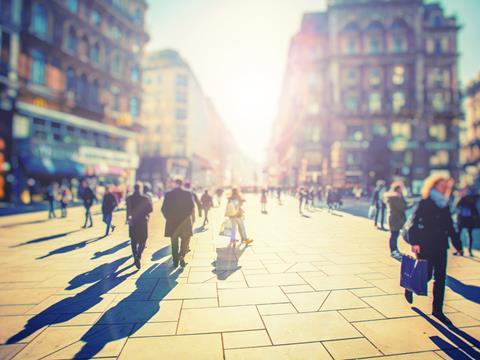 Top story
Representatives of more than 50 high street retailers, including Asda, Sainsbury's and Iceland, have urged Chancellor Sajid Javid to take action to 'fix' the business rates system.
In a letter to the new Chancellor, seen by The Grocer, the retailers said they 'strongly believe' a reform of the 'broken business rates system' should be at the heart of the government's plans for a new economic package to boost business and investment in the UK.
'This outdated tax is hindering our plans for investment, holding back productivity growth and detrimentally impacting communities up and down the country,' the letter states.
The British Retail Consortium, which co-ordinated the letter, explained that the retail industry accounted for 5% of the UK economy, but paid 10% of all business taxes and 25% of business rates, with the 'disparity' harming high streets and local communities.
The letter suggests four actions by the government to address many of the challenges of business rates. These include a freeze in the business rates multiplier – preventing tax rises – and fixing transitional relief, to overturn the 'unfairness' whereby businesses outside London pay high rates to fund increases in the capital.
The introduction of an 'improvement relief' for ratepayers and ensuring that the Valuation Office Agency is 'fully resourced' are other two measures to help the retail industry, according to the letter.
BRC CEO Helen Dickinson said: "These four fixes would be an important step to reform the broken business rates system which holds back investment, threatens jobs and harms our high streets."
Richard Walker, joint managing director at Iceland Foods, said: "Business rates are an outdated Victorian taxation system that have little relevance to our modern multi-channel retail economy.
"Fundamental reform of the system is the only way we will stem the decline of high street communities up and down the country."
The letter comes on the back of new figures from the BRC-Springboard Footfall and Vacancies Monitor showing a continued fall in retail footfall and the rise of vacancy figures to 10.3%, the highest since January 2015.
Among other food and drink businesses to sign the letter were: Costcutter, Greggs, Marks & Spencer, Pret a Manger, Spar UK, Co-op and Morrisons.
Morning update
Global meal kit company HelloFresh (HFG) said it was on track to deliver more than 250m meals this year as it announced second-quarter revenue up 37% year on year to €437m (up 31.5% at constant currency from €320m in the same period in 2018).
It posted AEBITDA profitability in line with its guidance for the first time at group level – its first group-wide profitable quarter.
Its contribution margin maintained its high level of 29.1%, which was already reached in the preceding quarter – an increase of 1.2 percentage points on Q2 2018.
The US segment reached an AEBITDA margin of 2.9%. The International segment was AEBITDA positive for the fifth consecutive quarter with an AEBITDA margin of 11.5%, which it said underlined the attractiveness of the business model, especially in its more mature markets.
Dominik Richter, chief executive and co-founder, said: "Since the very beginning our mission has been to change the way people eat. Each day we have a profound impact on millions of people's lives, by passing on significant savings to them, bringing families and friends closer together and by delivering healthy, wholesome meals to their homes.
"Doing this at a rate that only few other high-growth companies can achieve makes us proud. It's a great motivational force for everybody at HelloFresh."
Newstrade wholesaler Connect Group has warned it is unlikely to be able to achieve its previously flagged sale and leaseback of up to 16 freeholds and long-lease properties within its Tuffnells estate before the end of the current financial year.
Connect announced in January this year that it would take a more prudent and disciplined approach to capital management as part of its capital allocation strategy.
The potential deal was expected to raise up to £35m of net proceeds before tax.
It said the offers received did not meet the board's expectations because of the current market conditions and outlook.
Net debt was expected to remain flat on HY2019 (net debt at 28 February 2019 was £77.5m, representing a net debt/adjusted EBITDA ratio of 1.95x).
The group said it continued to target a reduced net debt/EBITDA ratio of 1x by FY2021, with repayment achieved through a combination of surplus free cash from operations as well as proceeds from any future sale and leaseback of Tuffnells properties as and when appropriate.
Connect said overall trading had been slightly below market expectations since its interims on 1 May.
A strong performance in Smiths News had partially offset a slower turnaround performance in Tuffnells, where second-half performance to date had improve on the first half in line with previous guidance.
Connect will publish its preliminaries on 6 November.
Henkel, the Persil and Schwarzkopf company, has reported sales of €5.1bn sales in the second quarter – almost level with the same period in 2018.
Organic sales fell 0.4% while the contribution from acquisitions and divestments amounted to 0.5%.
Organic sales in Western Europe fell 1.8%.
Adjusted operating profit (EBIT) decreased 8.6% from €926m in the second quarter 2018 to €846m.
Adjusted return on sales (EBIT) reached 16.5%, which was 1.5 percentage points below the same quarter last year.
Hans Van Bylen, chief executive, said: "The development of the beauty care retail business was significantly below our expectations. On the one hand, this was due to not satisfying developments in mature markets such as North America and Western Europe. In China, the retail business was impacted by ongoing stock adjustments.
"In addition, marketing and sales expenses were higher overall. The professional business, however, continued its strong performance. "In the laundry & home care business we achieved good organic sales growth. Despite the announced investments, adjusted EBIT margin remained at a high level. The newly launched innovations also contributed to the overall good development in this business unit."
The company updated its guidance for the fiscal year. It had previously expected organic sales growth of 2-4% but now anticipates for the 0-2% percent. Il continues to expect adjusted return on sales on group level in the range of 16-17%.
"We pursue a long-term strategy with clear priorities and ambitious goals. Our investments in brands, technologies, innovations and digitalisation underpin our commitment to sustainable profitable growth," said Van Bylen.
On the markets this morning, the FTSE 100 built on yesterday's fall, dropped 0.2% in early trading 7,209.6pts.
Early risers include McBride (MCB), up 4.4% to 65.8p, McColl's Retail Group (MCLS), up 2.9% to 64.8p, Premier Foods (PFD), up 2.2% to 33.2p and Finsbury Food Group (FIF), up 1,8% to 66.8p.
Fallers so far today include Hilton Food Group (HFG), of 3.6% at 891p, PZ Cussons (PZC), down 1.7% to 207p, Devro (DVO), down 1.6% to 195.6p and DS Smith (SMDS), down 1.6% to 323.3p.
Yesterday in the City
The FTSE 100 closed down 0.4% yesterday at 7,226.7pts.
FTSE 100 fallers included Associated British Foods (ABF), off 2.2% at 2,333p, Marston's (MARS), down 2.1% at 105.1p, WH Smith (SWMH), down 1.9% at 1,982p and AG Barr (BAG), closed down 1.6% at 636p,
Stocks on the up included Majestic Wine (WINE), up 4.8% at 287.5p, C&C Group (CCR), up 3.2% at €4.1m, Glanbia (GLB), up 2.1% at €11.4, McColl's Retail Group (MCLS), up 1.6% at 63p and Reckitt Benckiser Group (RB), up 1.6% at 6,127p.