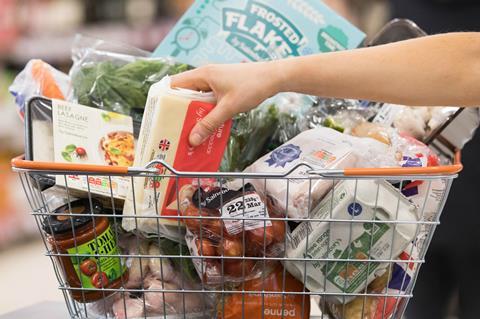 Top story
Sainsbury's (SBRY) was the only big four supermarket to cut its prices year on year in January as the overall grocery sector remains in mild inflation, with further inflationary pressures on the horizon.
According to The Grocer Price Index, collated by Edge by Ascential from more than 63,000 individual SKUs across the big four, industry inflation stood at 0.4% in January, edging down from the 0.5% inflation recorded in December.
The sector-wide price rises in January were the joint-lowest since September, when prices dipped into deflation of 0.1%.
The January figures form part of a longer trend of modest inflation since early 2019, with only two months of deflation since February 2019 and inflation so far peaking at just 0.8% in August 2019.
Prices at Sainsbury's were down 0.6% in the month, driven by a 2.4% price drop in biscuits, confectionery & snacks and 1.4% in meat, fish & poultry.
Tesco (TSCO) and Asda were both recorded with inflation of 0.6% while Morrisons' (MRW) annual prices were up 0.8% year on year.
Waitrose, not included in the overall GPI figure, saw prices up by 0.5% - its highest level of inflation since June 2019.
Check out thegrocer.co.uk/finance later this morning for the full story and category breakdown.
Morning update
On the markets this morning the FTSE 100 has fallen a further a further 0.3% to 7,430pts.
Risers include PayPoint, up 1.9% to 956p, Marks & Spencer (MKS), up 1.2% to 181.6p and B&M European Value Retail (BME), up 1% to 379.5p.
Fallers include Bakkavor, down 3.6% to 133.6p, Hotel Chocolat (HOTC), up 2.4% to 450p, Hilton Food Group (HFG) and Ocado (OCDO), down 1.7% to 1,162.5p.
Yesterday in the City
The FTSE 100 slumped 1.1% back to 7,452pts on yet more coronavirus fears and the shock replacement of UK Chancellor Sajid Javid.
The two Coke bottlers posting full year numbers yesterday bucked the trend, with Coca-Cola HBC up 3.6% to 2,883p in London yesterday and Coca-Cola European Partners up 4.1% to $54.65 in the US on strong growth.
However, the world's largest food group Nestle summed up the wider slump, falling 2.2% to CHF104.70 despite posting its strongest organic growth for four years as it guided that it will take longer than expected to hit its mid-term growth targets.
The day's other risers included McBride (MCB), up 3.8% to 68p, Hotel Chocolat (HOTC), up 2.9% to 461p, Applegreen (APGN), up 2.6% to 467p, Cranswick (CWK), up 1.7% to 3,790p, Nichols Beverages (NICL), up 1.6% to 1,405p and Domino's Pizza (DOM), up 1.3% to 311.1p.
The day's fallers in London included McColl's (MCLS), down 6.6% to 43.1p, WH Smith (SMWH), down 3.4% to 2,410p, DS Smith (SMDS), down 2.3% to 369.3p, Marston's (MARS), down 2.2% to 104.2p, Science in Sport (SIS), down 2.1% to 46p and FeverTree (FEVR), down 2% to 1,455.5p.
Retailers Tesco (TSCO) and Morrisons (MRW), were down 1.8% to 252.1p and 1.7% to 179.1p respectively.