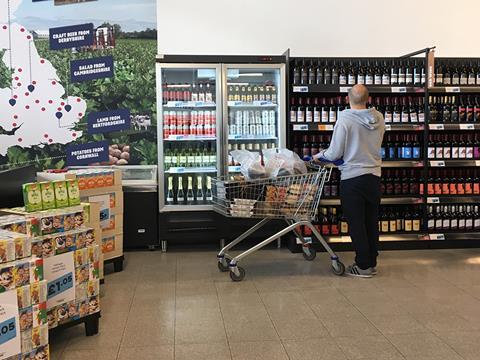 Top story
Price rises triggered by the post-Brexit fall in the pound have almost completely subsided as supermarket price inflation reached its lowest level for 20 months.
The Grocer Price Index, ­collated by Brand View from analysis of more than 64,000 individual SKUs, edged back up to 0.1% in September, having been flat in August but it is still at its lowest level since January 2017.
The 0.1% level of inflation is a marked fall from the 2.7% inflation high recorded less than a year ago in November 2017 and well behind the 12-month average of 1.4%.
Six of the GPI's 14 categories were in deflation in September - most notably meat, fish & poultry, which is down 2.6% having been running at inflation of 4.4% in November 2017.

Deli, the smallest of the GPI categories by SKU count, recorded a 3.7% price decrease in September, while dairy was down 1% and fruit & veg were down for the second consecutive month, falling 0.6%.

The overall deflation in meat, fish & poultry and dairy category prices were heavily driven by Tesco, with the supermarket showing a 6.8% annual price decrease in the former and 4.5% in the latter.
Notably, prices are back into deflationary territory at the UK's biggest supermarket. Tesco recorded a fall in year-on-year prices for the second consecutive month.

Tesco's average prices across September were down 0.5% on top of a 1% price fall in August.

Before its August move back into deflation, Tesco had reported the highest level of supermarket inflation every month for an entire year as its resistance to price increases in the first half of 2017 led to bigger year-on-year price hikes in the subsequent months.
Morning update
Leading UK potato supplier Produce Investments slumped to a loss after cold weather in the spring impacted its crop.
The producer collapsed from a pre-tax profit of £5.5m in 2017 to a £9.5m pre-tax loss for the 52 weeks ended 30 June 2018.
The loss was significantly driven by exceptional costs including £11.4m in impairment provisions for its Swancote Foods and Rowe Farming arms.
Operating profit before exceptional items fell to £6.1m, down from a restated £7.8m, which the group said was in line with its recently downgraded expectations.
Produce Investments also revealed it is subject to a takeover bid by Promethean Investors which was found by analyst Shore Capital to be fair and reasonable.
The company also revealed that a key customer is winding down its contract over three years but said it is "well positioned for new opportunities in the market".
"In a difficult year impacted by the adverse spring weather we have seen business gains and improved operational efficiencies in our core fresh segment helping sustain our performance in a tough retail environment and I am pleased to say that we have delivered operating profit in line with the board's revised expectations," commented chief executive Angus Armstrong.
"Rowe Farming and Jersey both suffered due to the long periods of cold and unseasonal spring weather and our Swancote facility continued to struggle in a fragmented and competitive market sector.
"Looking forward, we will be increasing our presence in the daffodil market, continuing our growth with Restrain through a healthy demand for its tomato ripening and potato storage solutions and we will continue to expand the Linwood Crops business."
The FTSE 100 has rebounded this morning, jumping 0.4% to 7,035pts, after slumping to a six-month low yesterday following a major sell-off on Wall Street.
The early risers this morning include Fevertree drinks (FEVR), up 4.2% to 2,861p, Wincanton (WIN), up 2.4% to 210p, and Nichols (NICL), up 2.3% to 1,414.5p.
Today's early fallers include Imperial Brands (IMB), down 2.5% to 2,612p, British American Tobacco (BATS), down 1.3% to 3,359p, and Stock Spirit Group (STCK), down 0.9% to 199.6p.
Yesterday in the city
The FTSE 100 suffered a major fall for the second running day of trading, dropping 1.9% to 7,007pts, as growing trade concerns led to panic selling on Wall Street.
Crisis-stricken café chain Patisserie Valerie (CAKE) has edged nearer to the brink as it announced it needed an "immediate injection of capital" to continue in its current form.
The AIM-listed retailer made the announcement less than 48 hours after it said it discovered a multi-million black hole in its accounts and had its shares suspended.
On a generally downbeat day's trading, one of the biggest fallers was WH Smith, which slumped 11.5% to 1,800p, after announcing that headline earnings were hit by restructuring costs related to its shrinking high street business.
Other major fallers included CARR's Group (CARR), down 9% to 141p, Applegreen (APGN), down 8.1% to 533p, Hotel Chocolate Group (HOTC), down 7.5% to 259p, Devro (DVO), down 6.6% to 194.6p, and Hilton Food Group (HGF), down 5.5% to 926p.
Purecircle Limited (PURE) had a much more positive day's trading after Numis reiterated its 'buy' rating, pushing the stevia producer up 11.5% to 319p.
Other risers included Fevertree Drinks (FEVR), up 4.7% to, 2,745p, Greencore (GNC), up 2.5% to 200.3p, and Ocado Group (OCDO), up 2.2% to 779.4p.