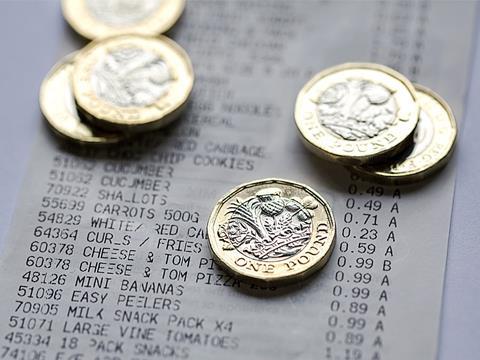 Food price inflation hit food sales post-Christmas with a rocky first month of 2018, the latest retail snapshot from the Office for National Statistics shows.

Seasonally adjusted volume growth in food fell 0.9% year on year - the sixth consecutive month of declines.

This January's fall compares with 2.6% growth in non-food stores and total retail sales growth of 1.6%, the ONS figures show.

Brits spent nearly 40p in every pound in food stores in January, and 9p in petrol stations. They spent 42p in non-food stores and 9p in "non-store" retailing.

Volume of food bought in January compared with December fell 0.2% and value slipped 0.4%. Petrol station volumes fell 0.1% month on month and value sales remained static.

Non-food stores were the only outlets to show an increase in contributions to the overall growth for both the quantity bought and amount spent when compared with December 2017, the figures show - up 0.4 and 0.5 percentage points respectively.

"Retail sales growth was broadly flat at the beginning of the new year with the longer-term picture showing a continued slowdown in the sector. This can partly be attributed to a background of generally rising prices," said ONS senior statistician Rhian Murphy.

"Growth in the quantity of sporting equipment, games and toys being bought was offset by falling food sales when compared with the same month a year earlier."

Lisa Hooker, consumer markets leader at PwC, said one in four shoppers expected to buy more food on promotion, and one in six planned to shop in a cheaper stores, when the professional services group polled consumers at the end of last year.

"While inflation has eased in the grocery sector compared to last year, we're starting to see higher prices affect consumer spending behaviour, with supermarket sales volumes declining year on year after the bumper Christmas period," she said.