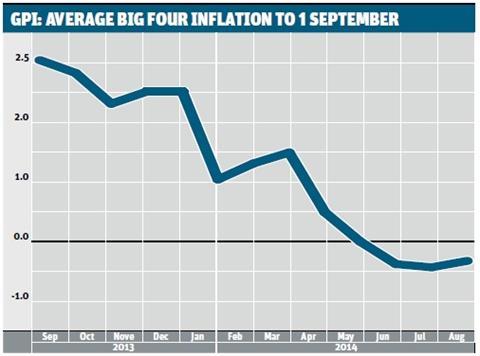 With food and drink prices still showing annual deflation, it's little surprise supermarket sales are feeling the effect.
The Grocer Price Index (GPI) found supermarket deflation stood at -0.56% in the month to 1 September, representing the fourth month of falling prices in succession and the third consecutive month of decline above 0.5%.
This has clearly contributed to the like-for-like sales woes of the supermarkets (as demonstrated by Morrisons yesterday), but the extent that this deflation is self-inflicted is less clear.
Certainly the falling prices at the tills reflect the significant drop in price of a range of commodities this year. But there is growing evidence that the – often exaggerated – supermarket price war has started to have a genuine impact too.
All five supermarkets (the GPI itself excludes Waitrose from its calculations) recorded negative food price growth for the month to 1 September. But what is notable is that their respective price cuts look to have largely centred on different categories.
There is at least some level of uniformity. With the sustained downwards pressure on most agricultural commodities in recent months, it's little surprise that fruit and veg was a key driver of deflation. Across all retailers, prices fell 3.29% - although the 8.32% price drop at Morrisons was far higher than its rivals – Asda and Tesco were both at -3.55% while Sainsbury's was at -1.81%.
But elsewhere there was significant disparity across various categories, strongly suggesting that strategic decisions to cut prices – whether to match a rival or set a new price points – have contributed to deflation as well as wholesale prices.
Looking at Asda and Morrisons – the lowest priced of the five major supermarkets according to the Grocer 33 – illustrates that point.
At Asda dairy prices fell by 4.82% year-on-year, while Morrisons saw diary prices rise by 2.74% (leaving the category overall 0.43% lower year on year). Conversely, Asda saw chilled goods rise in price by 3.02%, while Morrisons recorded 2.87% price deflation across the category.
Morrisons has also seen prices fall in bakery at a faster rate than its competitors (-2.44% against the overall rate of -0.99%) and it is seeing falling prices in deli (-1.16%), while Asda experienced deli inflation of 1.98%
Of course the GPI's year-on-year comparisons don't compare the absolute prices of goods from retailer to retailer, but the Grocer 33 does – and that too has found that Morrisons' material action on price is having an effect. Morrisons won the Grocer 33 this week and is just two wins behind Asda for the year.
The price skirmish may have not quite become a full-scale war yet – but the phoney war looks to have ended and the real fighting has begun. The next key question is whether Dave Lewis sends Tesco fully wading into that battle.