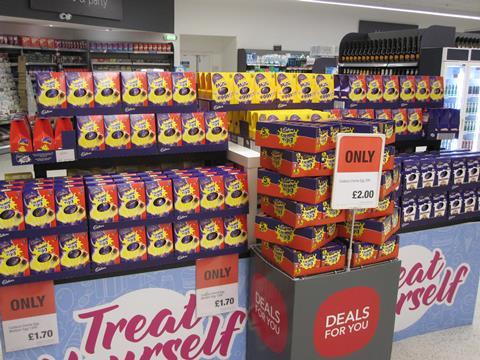 Top story
The grocery sector is growing at its fastest rate this year thanks to a record £2.5bn Easter spend when shoppers took home £335m of Easter eggs and seasonal chocolate.
The 12-week period ending 21 April saw grocery growth move back to 2% to £27.4bn, according to the latest market share figures from Kantar.
Meanwhile data released today by Nielsen shows consumer spending in the grocery sector increased in April 5.9% for the four weeks to 20 April – the highest level since the late Easter in 2014 and the summer heatwave of 2013.
According to Kantar, Sainsbury's reclaimed second-place from former merger partner Asda despite experiencing a 1.2% sales decline as Asda sales rose just 0.3% leaving the latter's sales £35m behind its former merger partner.
Tesco sales climbed 1% to £7.5bn, Aldi 11.6% to £2.17bn, The Co-op up 4.5% to £1.7bn, Lidl, up 8.6% to £1.6bn – pushing it market share to a new high of 5.7%, up 0.3 percentage points compared with last year and Ocado up 6.8% to £365m.
Fraser McKevitt, head of retail and consumer insight at Kantar, said that Sainsbury's and Asda continued to battle it out for second place.
Two thirds of the public were aware of the proposed merger: the majority of those who knew about the Competition and Markets Authority ruling had no opinion as to whether it was a good or bad outcome, while only one third welcomed the decision.
"Sainsbury's has reclaimed second position despite a sales decline of 1.2%. The supermarket achieved double-digit growth online which coincides with the launch of its first mobile-only payment store in central London this week, further demonstrating its drive towards digital innovation," McKevitt said.
Asda increased sales by 0.3% to take market share of 15.2%. McKevitt said: "The average Asda shopping basket increased in value and shoppers visited more often. Asda remains strong in its northern heartland with the north of England and Scotland accounting for more than 40% of sales.
"Despite movement at the top of the table, the phrase 'big four' continues to hold meaning and Morrisons' 10.3% market share means it sits comfortably ahead of the fifth largest retailer, Aldi. Alcohol sales were the biggest contributor to Morrisons' 0.6% growth this period."
Sales at Iceland and Waitrose rose 1.4% and 0.7% respectively with Iceland holding market share of 2.1% and Waitrose falling back 0.1 percentage points to 5%.
McKevitt said half of Lidl's sales now came from the fresh and chilled aisles and its performance this period was fuelled by customers spending an extra £14m on dairy items and £13m on fruit, vegetables and salads.
Fellow discounter Aldi was again the fastest growing supermarket, a position it had held since July 2018, he said.
"Aided by its store-opening programme, Aldi attracted an additional 823,000 shoppers through its doors to grow sales by 11.6% and increase its market share by 0.6 percentage points to 7.9%."
Co-op and Ocado were the only other retailers to gain market share on last year, moving to 6.1% and 1.3% respectively. "Co-op has been able to capitalise on periods of warmer weather as people shop closer to home and, with a 4.5% increase during the past 12 weeks, it has now grown sales continuously for a full year," said McKevitt.
McKevitt added that the convenience retailer continued to perform well when it came to small shopping baskets, accounting for 17% of all trips where people spent less than £20.
Grocery inflation stood at 1.4% for the period – a continuation of the food inflation that has taken hold since the 12 weeks to 1 January 2017.
Meanwhile, Nielsen found that for the week ending Easter Saturday overall sales peaked at +15%, as shoppers bought into attractive seasonal offers that complemented the warm weather, both in store and online.
Nielsen's latest data indicates that over the 12 week period, all retailers - apart from Sainsbury's - experienced growth, with Aldi and Lidl maintaining their double digit growth and combined market share of 16%.
Retailers with smaller stores, such as the Co-operative (+3.5%) and Iceland (+4.5%), continued to outperform the average market growth, while food and drink sales increased by 1.6% at Marks and Spencer, which is their best performance since the summer of 2018.
Mike Watkins, Nielsen's UK head of retailer and business insight, said: "While shoppers are still looking to get the best value for money for their weekly groceries, they are also still prepared to indulge in affordable treats in order to make the most of long weekends, and enjoy the warm weather with friends and family.
"There was stronger performance in the last four weeks, which included both Easter and Mothering Sunday, where British shoppers spent £213m on Easter eggs, £49m on fresh lamb, £136m on cut flowers and £41m on Prosecco."
Easter had traditionally been a time of year when the big supermarkets captured more of the incremental spend, but as shoppers continue to shift spend away from the big four and their combined market share fell to 64% in the last 12 week, he said.
Morning update
Coca-Cola European Partners (CCEP) has heralded "a good start to the year" that it said reflected its continued focus on driving profitable revenue growth.
It posted first-quarter revenue up 8.5% to €2.58bn (£2.23bn) during a period in which it launched light cola flavours, Honest Lemonade, Monster Espresso and Honest Tea in glass in selected markets.
The company, which joined the main market of the London Stock Exchange on 28 March, enjoyed a surge in revenue in Great Britain of 18% to €430m compared with the first quarter of 2018 – growth that was ahead of France, Germany, Iberia and Northern Europe.
Coca-Cola Zero Sugar, Diet Coke, Fanta and Schweppes drove volume growth in Great Britain where small can volumes, driven by Schweppes 1783 and Coca-Cola, climbed 27.5%.
Overall volumes of Coca-Cola climbed 3.5% across the group while flavours, mixers and energy drinks climbed 7.5%, hydration 3% and ready-to-drink (RTD) Tea, RTD coffee, juices and "other", climbed 6%.
Damian Gammell, chief executive, said the company had "a market-leading position with the world's "best" non-alcoholic RTD brands.
"We believe we have an attractive and exciting investment story, as we continue to expand our total beverage portfolio while strengthening core capabilities that will drive sustainable success. The 100th and 90th birthdays of Coca-Cola in France and Germany respectively, as well as our listing on the London Stock Exchange also marked the quarter.
"Although we have had a good start to the year, the first quarter is our smallest. We are focused on building on this momentum with the key summer selling season ahead of us, albeit following a strong 2018, with some exciting innovations in the pipeline, including the launch of Coke Energy and Aquarius enhanced water."
Gammell said the company remained confident in its annual growth objectives over the mid-term."
He reaffirmed the group's full-year guidance for 2019.
Greene King's (GNK) has expressed confidence in continued market outperformance after it announced like-for-like sales for the year to 28 April 2.9% ahead of the market.
The outperformance reflected programmes in place to drive what the brewer said was industry-leading value, service and quality for its customers.
It reported in a pre-close trading statement that total beer volumes in Brewing & Brands were up 0.9% and own-brewed volumes were down 3.4% against a UK ale market down 4.2%.
Greene King also reported good drink volume growth across Pub Company and, in particular, in its 1,000 drink-led Greene King local pubs, which recorded like-for-like sales up 4.6%. Like for likes for the last 16 weeks of the year climbed 2.4%.
It reported further progress on its debt refinancing plan during the second half of the financial year
It had repaid £393m, or 51% of the Spirit debenture by the year end it we tapped the Greene King securitisation for £250m at 3.6%, creating headroom within its revolving credit facility for future bond repayments from the debenture.
The company said it expected to limit net cost inflation this year to £10-£20m and for full year profit before tax, non-underlying and exceptional items to be £244m-£247m.
It said it was broadly on track to deliver its disposals programme and new builds/single site acquisitions for the year.
Rooney Anand, chief executive, said: "We have traded strongly this year and have returned to market outperformance. As I hand over to my successor Nick Mackenzie, I believe that, with our strong pub and beer brands, talented and dedicated team and high-quality estate, Greene King is well positioned to make further progress and continue outperforming the market."
The preliminary results will be announced on 27t June 2019.
Science in Sport (SIS) has launched a new website for PhD, its premium protein brand, which it acquired last December.
It said the launch of the new website was part of a strategic plan to drive PhD's online growth through significantly improving the performance, customer engagement and sales conversion rates of its website.
Stephen Moon, chief executive, said the commercial strategy for its two brands, PhD and SiS, was multi-channel. Sales from brand websites complemented sales through key channels including major supermarkets, high street chains and specialist retailers and e-tailers.
"The launch of the new PhD website is focused on driving sales through the site and also to provide an online resource of PhD product information. We continue to be excited by our recent acquisition of PhD, which is performing in line with expectations," he said
Whitbread (WTB) intends to return up to £2.5bn of the net cash proceeds from the £3.9bn sale of Costa to The Coca-Cola Company which completed at the beginning of January.
The group said good progress had been made on separating Costa from Whitbread – a process that was scheduled to last for up to two years.
Many of the shared services teams and supplier contracts had been separated, with the main focus now on technology and information systems.
While work was under way to minimise dis-synergies arising from the separation, these were expected to be about £10m in FY20.
It has repositioned the group as a focused hotel business by delivering our three strategic priorities to grow and innovate in the UK; focus on its strengths to grow internationally; and to enhance the capabilities required to support long-term growth, said Alison Brittain, chief executive.
The group announced statutory profit for the year of £3.7bn including the profit on disposal of Costa. Statutory profit before tax declined by 39.1% to £260m driven by £178m of non-underlying items, of which £108m relates to disposal costs relating to the sale of Costa. Revenue climbed 2.1% to just over £2.05bn.
The latest consumer confidence measurements from GfK shows the public is holding its nerve amid political turmoil.
The Consumer Confidence Index held steady at -13 in April. Joe Staton, GfK strategy director said the -13 score had been constant for the past three months despite political "carry-on".
Two measures within the overall index improved – consumer perspective of the general economic situation over the past 12 months and over the next 12 months, although these still remained in deeply negative territory and -30 and -34 respectively.
Staton said: "The biggest change is a sudden drop in the motivation to save money – this is down by eight points – and represents the largest monthly drop in our savings measure since after the Brexit referendum in June 2016."
Heineken (HEI) has completed the long-term strategic partnership with China Resources Enterprise and China Resources Beer (Holdings)CO for mainland China, Honk Kong and Macau.
On the markets this morning, the FTSE 100 edged up 0.02% to 7,442,2pts in early trading.
Early risers include Majestic Wine (WINE), up almost 2% to 265.2p, Tate & Lyle (TATE), up 1.4% at 744.8p, Morrisons (MRW), up 1.6% at 220.3p NS Finsbury Food Group (FIF) up 1.2% at 86.5p.
Fallers so far today include DS Smith (SMDS), off 2.1% at 365p, Whitbread (WTB), down 1.9% at 4,666p, Nichols (NICL), down 0.9% at 1,755p and McBride (MCB) down 0.8% at 106p.
Yesterday in the City
The FTSE 100 closed up 0.2% yesterday at 7,440.7pts.
Climbing up the index were AG Barr, with higher than average volumes, closing up 1.5% at 837p.
Britvic (BVIC) closed up 2% at 910p, DS Smith (SMD), 1.7% at 372.7p and Sainsbury's (SBRY) 1%, ahead of Wednesday's annual results. McColl's Retail Group (MCLS) climbed 2.1% to 87.4p.
PayPoint (PAY) moved up 1.2% to 1,004p after announcing a new partnership with Midlands-based housing organisation Midlands Heart. PZ Cussons (PZC) climbed 1.5% to 205.5p.
FTSE 100 fallers included Applegreen (APGN), off 2.6% at 455p and Greene King (GNK) slipped 1.7% to 692p, ahead of today's first-quarter sales.
Premier Foods fell (PFD) 1.7% to 35.4p and Whitbread (WTB) dipped 2% to 4,754p.
Greggs (GRG) posted its annual financial report and accounts for 2018 following the announcement last month of its full year results. It said at the time that pre-tax profit climbed 9.8% to £89.8m on total sales up 7.2% to 1.23bn. It will hold its AGM on 21 May.