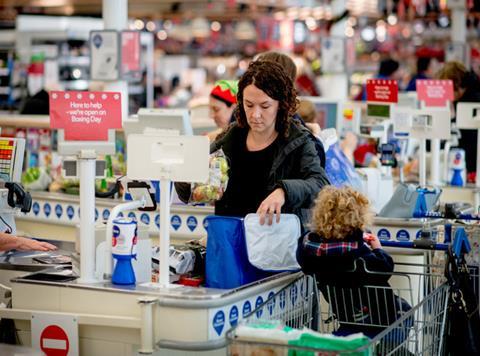 Top story
Grocery sales grew by 1.9% in the 12 weeks to 24 February as one in ten shoppers admit to stockpiling food in preparation for a possible disorderly Brexit, according to Kantar Worldpanel.
Kantar found that around 10% of shoppers have started stockpiling groceries and a further 26% reporting that they are considering doing so.
However, this has not been borne out in sales just yet, with overall grocery volumes rising by just 1.2% in the 4 weeks to 24 February showing no increase compared with recent months.
Tesco (TSCO) achieved growth of 1.3%, Asda was up 1% and Morrisons (MRW) grew 0.8% - with Sainsbury's (SBRY) the only big four player in decline as sales fell 1%.
Aldi was the only retailer to report double-digit growth during the past 12 weeks, increasing sales by 10%, helped by growth of its Valentine's Day range.
Co-op attracted an additional 244,000 shoppers through its doors to help boost sales by 3.6% and increase its share of the total market to 5.9%.
As Ocado's new partnership with Marks & Spencer was announced, confirming they will jointly supply the retailer's products from 2020, sales at the online specialist rose by 3.4%, holding market share at 1.2%.
Grocery deflation now stands at 1.7% for the 12 week period ending 8 November 2015. This means shoppers are now paying less for a representative basket of groceries than they did in 2014.
Meanwhile, grocery market share figures from Nielsen found growth in the grocery sector has slowed since January as sales were up 2.5% compared to 3.3% this time last month.
The slowdown in growth this month can be attributed to a drop in spend per visit, as consumers are increasingly cautious with their spending against the backdrop of Brexit and economic uncertainty. Since the start of the year, shoppers are shopping more often and, as a result, are buying fewer items.
Mike Watkins, Nielsen's UK Head of Retailer Insight, said: "Over the last four weeks, the average spend per visit has fallen to £16.30 from £16.70 this time last year, down 2%, as a result of the resurgence of 'little and often' shopping behaviour but also due to price cutting by supermarkets."
In terms of retailer performance over the last 12-week period, Tesco leads with 26.8% market share, followed by Sainsbury's at 14.8%, Asda at 13.8% and Morrisons at 9.8%.
Morrisons was the fastest growing of the big four with 12-week sales up 1.4%, following by Tesco at 1.2%, Asda at 0.9%, while Sainsbury's was down 0.9%.
Sainsbury's was the only supermarket in decline, with M&S up 1.2% and Waitrose up 0.7%.
Aldi was up by 13.3%, closely followed by Lidl at 10.3%.
Morning update
Brexit uncertainty has hit retail growth, according to the British Retail Consortium.
During the four weeks to 23 February, the BRC found that retail sales increased by 0.5% during the month, compared to a 1.6% increase in February 2018.
This figure was well below both the 3-month and 12-month averages of 0.9% and 1.2% respectively.
UK retail sales decreased by 0.1% on a like-for-like basis from February 2018, when they had increased 0.6% from the preceding year.
Over the three months to February, in-store sales of non-food items declined 2.8% on a total basis and 3.1% on a like-for-like basis.
Food fared a little better, with sales increasing by 1.3% on a like-for-like basis over the three month period and by 2.4% on a total basis. However, this was still below the 12-month total average growth of 2.9%, which is the lowest since August 2017.
Online sales of non-food products grew 5.4% in February, against a growth of 6.4% in February 2018.
BRC chief exec Helen Dickinson commented: "Uncertainty surrounding the UK's imminent exit from the European Union has hit consumer spending. While real incomes have started to rise over the past year, shoppers have been reluctant to spend this February, holding back growth. This slowdown was not limited to physical stores, with growth in online non-food sales well below the twelve month average.
"With consumers increasingly aware of the risk of a no deal Brexit, it is likely that uncertainty has driven this cautious approach to retail spending. If government wishes to reassure both the public and businesses, they should ensure a chaotic no deal – which would lead to higher costs, higher prices, and less choice for consumers – is taken off the table with immediate effect."
Paul Martin, UK head of retail at KPMG, added: "Following a modest recovery in January, February saw a slowdown in sales. While consumer spending has so far remained relatively resilient, driven by factors such as low unemployment and wage growth, it would seem that continuing political and economic uncertainties are beginning to notably affect shoppers' spending habits.
"Across all categories there was sluggish growth, and the milder weather appears to have shifted the focus away from indoors with furniture sales declining - and not even Valentine's Day could boost sales in the stationery category.
"However, the full impact of the recent unseasonably warm weather is yet to be seen, especially for the clothing categories, and online sales growth remained steady.
Susan Barratt, CEO of IGD, commented: "A mild February provided the backdrop for modest food and grocery sales growth versus a year ago, when the figures were boosted by end-of-the-month stock-building ahead of a big freeze.
"The countdown to Brexit has had little effect on total food and grocery sales so far, with the majority of people shopping as normal. However, 21% of shoppers say they will focus more on saving money from their grocery shopping in the year ahead versus 16% this time last year."
Elsewhere, Swiss chocolatier Lindt & Sprüngli's grew group sales by 5.5% in 2018 despite a "challenging market environment".
The premium chocolate player grew sales by 5.5% in Swiss francs to reach CHF4.3bn, with organic growth of 5.1% as it expanded its market share in all countries.
Group operating profit rose by 6.9% to CHF636.7m, with EBIT margin improving to 14.8%.
Europe, which makes up around half of group sales, grew by 5.6% on an organic basis. Sales performance was particularly strong in the UK, Germany, Austria, and Spain, while growth in the European subsidiaries managed to climb into the double digits.
In North America where the market is suffering from flat growth and price pressure, organic sales growth amounted to 2.8%.
Rest of the world experienced strong growth of 10.3%, especially Japan, South Africa, Brazil and China, where growth reached the double digits.
In terms of outlook, the company said that stronger growth in the North America region will boost sales growth to 5–7% in the mid- to long term and a steady improvement in the operating margin of 20–40 basis points.
The group expects organic growth in sales and profits for the 2019 financial year to be within the mid- to long-term target range.
British American Tobacco (BATS) has quantified the financial impact of a judement in Canada against itself and two other Canadian tobacco companies.
The Quebec Court of Appeal in Montreal last week upheld the trial court's decision of May 2015, including the previously stated requirements for the defendants to deposit approximately CAD1.1bn into a court account.
As part of the 2015 decision, BAT's Canadian subsidiary Imperial Tobacco Canada Imperial Tobacco Canada (ITCAN) was required to place CAD758m (£436M) - the final payment of which was made in 2017. This deposit was held as an asset on the group's balance sheet at the year-end.
Following the 1 March 2019 judgment, BAT has reassessed the recoverability of the deposit and have determined that the asset's recoverability is less than virtually certain. Consequently, a provision of approximately £436m will be charged to the group's consolidated income statement in 2019.
ITCAN intends to appeal this judgment to the Supreme Court of Canada.
On the markets this morning, the FTSE 100 is up another 0.2% to 7,150.1pts.
Early risers include Premier Foods (PFD), up 2.6% to 39.7p, Devro (DVO), up 2.3% to 194.8p and McBride (MCB), up 1.7% to 105p.
Fallers so far include FeverTree (FEVR), down 1.2% to 2,699.5p, Ocado (OCDO), down 1.1% to 1,035p and Bakkavor (BAKK), down 1% to 143.6p.
Yesterday in the City
The FTSE 100 started the week on the front foot, rising 0.4% to 7,134.4pts yesterday.
In a day of little significant movement, Marks & Spencer (MKS) recovered 1.5% to climb back to 283.1p after the sharp share price drop last week in the wake of its tie-up with Ocado and subsequent dividend cut and rights issue.
Other risers included McColl's (MCLS), up 4.8% back to 66.2p, Hotel Chocolat (HOTC), up 4.1% to 342.5p, Glanbia Food (GLB), up 3.9% to €18.56, McBride (MCB), up 3.2% to 103.2p and DS Smith (SMDS), up 2.9% to 346.6p.
The day's few fallers included Premier Foods (PFD), down 2.2% to 38.7p, Majestic WINE (WINE), down 2.1% to 286.5p, Finsbury Food Group (FIF), down 1.3% to 76p and Applegreen (APGN), down 1.2% to 504p.