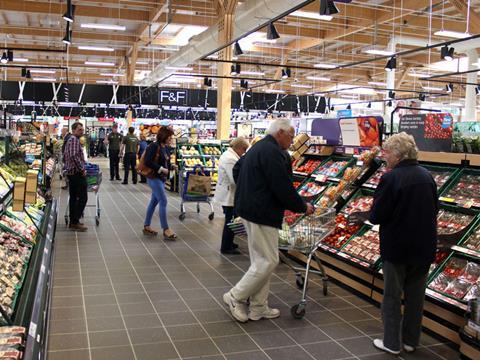 Shoppers spent less in October 2018 compared to the same time last year, according to newly released grocery market share data from Nielsen and Kantar Worldpanel.
Nielsen found headline growth in the last four weeks was 1.5%, a slow-down in spending from 1.9% during the previous four week period, and a stark contrast to the 3.1% for the equivalent period last year.
As inflation is broadly the same as it was this time last year, the caution that shoppers are displaying in other retail and leisure sectors may be influencing spend in grocery.
Mike Watkins, Nielsen's UK head of retailer insight, said: "Both in store promotions and media campaigns are more crucial than ever for the supermarkets this Christmas, to entice shoppers into their stores and ramp up consumer spending.
"With weaker than expected growth in October, the industry is under pressure to get shoppers into the habit of spending more over the next six weeks by showcasing what's new and different in store. We expect to see some inspiring and distinctive campaigns designed to drive sales as retailers will be focused on pulling consumers in over the festive period."
Nielsen found that within the top four supermarkets, Asda is still the fastest growing (+2.5%), followed by Morrison's (+1.2%). Tesco's growth (+0.3%) remained ahead of Sainsbury's (-0.6%).
Total grocery sales increased by 2.6% in the 12 weeks to 4 November 2018, according to Kantar Worldpanel, which is slowdown compared to recent months although it still represents a £663m increase in sales through the tills.
Among the retailers, the discounters and Co-op were the big winners, according to Kantar.
Co-op sales were up by 5.1% growing its market share by 0.2 percentage points to 6.3% after a seventh consecutive period of sales growth.
Aldi's sales increase of 15.5% in the period is its fastest rate since January 2018 and has helped lift its market share by 0.9 percentage points to 7.6%, which is the largest year-on-year share gain by any retailer in nearly four years.
Meanwhile, Lidl is in double digit growth for the second month running; sales are up by 10.2% compared with a year ago and its market share is up 0.4 percentage points to 5.5%."
Fraser McKevitt, head of retail and consumer insight at Kantar Worldpanel, commented: "Five years ago, just under half of British households were visiting one of the discount retailers at least once in a 12 week period. This now stands at almost two-thirds, which is reflected in their continued growth."
Sales at Asda have increased by 2.6% year-on-year meaning the retailer has now been in continual growth since April 2017.
Morrisons has achieved its 25th consecutive period of growth, with sales up 1.5% in the 12 weeks to 4 November. At Tesco sales were up by 0.4%, while Sainsbury's sales fell by 0.6%, the first decline for the retailer since June.
Kantar said grocery inflation now stands at 1.8% for the 12 week period ending 4 November 2018, with prices rising since the 12 weeks to 1 January 2017, following a period of grocery price deflation which ran for 30 consecutive periods.