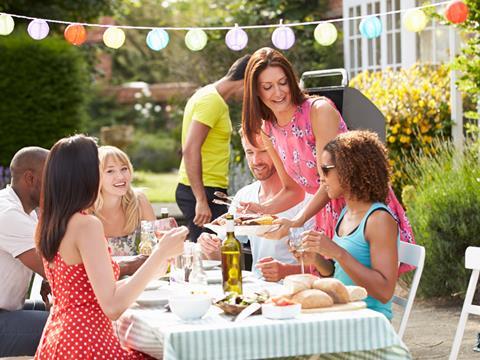 Top story
Monthly food sales hit their highest level for five years in July driven by the World Cup and hot summer, but the rest of the retail industry failed to fire.
The BRC – KPMG Retail Sales Monitor for the four weeks to 28 July 2018 found overall retail sales increased by just 0.5% on a like-for-like basis from July 2017 – down from a 0.9% increase in the previous year.
On a total basis, sales increased 1.6% in July, against an increase of 1.4% in July 2017. This is below the 3-month average of 2.7%, but in line with the 12-month average of 1.6%.
Over the three months to July, food sales increased 3.1% on a like-for-like basis and 4.5% on a total basis. This is above the 12-month Total average growth of 3.8% and the monthly performance was the highest since July 2013, excluding Easter distortions.
However, in-store sales of non-food items declined 1.0% in the three month period on a total basis and 2.4% on a like-for-like basis.
Non-food retail sales in the UK increased 0.2% on a like-for-like basis and 1.2% on a total basis. This is higher than the 12-month total average decrease of 0.2% and the best 3-month average since June 2017. However, after two months of growth, July sales were back in decline.
BRC chief executive Helen Dickinson commented: "Last month's sweltering temperatures kept shoppers focussed on eating, drinking and keeping cool. Food sales had their best July in five years, while fans and cooling equipment flew off the shelves.
"However, total sales growth slowed as the heat laid bare the underlying weakness in consumer spending. Sales of non-food products struggled - three months into an extended period of summer weather, demand for many seasonal purchases has slowed while the heat has kept shoppers away from days spent browsing new ranges. For many in the industry, Autumn could not come sooner.
Paul Martin, UK Head of retail at KPMG, added: ""For all the hopes placed on the World Cup and the glorious weather, it seems retail sales still fell short of expectations. It was perhaps just too hot to hit the high street!
"July's performance reinforces the fact that it will take more than events-based retail and sunshine to improve the health of the high-street. Retailers must improve efficiency, in many cases reinvent themselves and adapt to the changing retail environment, including last week's interest rate rise."
Joanne Denney-Finch, IGD chief executive, said of the food sales performance: "July's food and grocery sales were a reason to celebrate after the best year-on-year uplift since July 2013. Beverages fared best of all thanks to England's World Cup Semi-Final appearance and exceptionally hot weather throughout.
"Although the short to medium term outlook involves a lot of uncertainties, most shoppers are optimistic for the longer term. 60 per cent are looking forward to the future and 72 per cent are hopeful that their lives will be better."
Morning update
News broke late yesterday afternoon that buying groups Today's Group and Landmark have responded to the supermarket-driven consolidation in the wholesale sector by agreeing to merge.
The rival groups said they aimed to create "a larger, more effective and efficient group, dedicated to supporting independent wholesalers, who in turn support thousands of independent retailers and small businesses".
The new company will called Unitas Wholesale.
Click here for the full story.
Domnio's Pizza Group has reported a double-digit rise in first half sales, but warned of "uncertain" trading conditions in the UK.
Total Group system sales in the first half of 2018 increased 12.8% to £616.6m and statutory revenue increased 22.6% to £259.1m, driven by strong store openings in 2017, continued UK like-for-like growth and the impact of the Nordic acquisitions year-on-year.
UK system sales were up 8.3% and ROI up 2.5% in local currency, with international operations recording system sales of £51.5m, or 8.4% of the group's total sales.
Group underlying profit before tax rose 2.5% to £45.7m, reflecting the UK's top line growth and stable margins, and an improved contribution from Germany year-on-year, offset by investments for the long term in Norway and Sweden, and rising interest costs as a result of higher net debt.
However, statutory profit before tax fell 9.7% back to £41.7m.
The pizza group warned the UK trading environment "continues to be uncertain".
"Consumers' disposable incomes are flat, and operators in the casual dining sector continue to experience inflationary pressures from the national living wage, food costs and business rates. Domino's remains well placed to thrive in this market. The combination of our scale, brand, value proposition and service continues to resonate with customers, translating into sustained growth in sales and profitability."
CEO David Wild said: "It's been another good trading period for Domino's. In the UK, despite continued consumer uncertainty, we've achieved further like-for-like growth by maintaining our clear focus on product, service and value for customers. Our ongoing investments in supply chain infrastructure and our IT platform will support future growth and customer engagement. Domino's is proud to be one of the most successful franchise businesses in the UK, and we will continue to work with our franchisee partners to promote the brand and the strength of the system.
"Whilst our international businesses continue to make good progress with customers and sales, it has taken us some time to refine the operating model and cost base at store level, particularly in Norway. We are confident that the changes we have made will result in a better performance in H2, and believe that these businesses offer significant long term growth potential as we export our expertise in digital, supply chain and franchisee management."
On the markets this morning, Domino's has plunged 9.1% to 289.1p so far this morning.
The FTSE 100 is up 0.4% to 7,691.1pts so far today.
Early risers include Majestic (WINE), up 3% to 441.5p after yesterday's falls, Pets at Home (PETS) up 1.8% to 127.2p, and Tesco (TSCO), up 0.9% to 261.6p.
Fallers include FeverTree (FEVR), down 4.1% to 3,529.8p, Ocado (OCDO), down another 2% to 1,056p and Glanbia (GLB), down 1.3% to €14.75.
Yesterday in the City
The FTSE 100 kicked off the week ending the day largely flat at 7,663.8pts.
The news Tesco (TSCO) will kick-off its partnership with Carrefour in October announced yesterday morning failed to move the dial on its shares, which ended the day flat at 259.4p.
Majestic (WINE) fell 5.2% back to 428.5p ahead of its AGM tomorrow and update to the City on recent trading.
Other fallers included Stock Spirits Group (STKC), down 4.4% to 207p, McColl's (MCLS), down 1.8% to 138.5p, Just Eat (JE), down 1.5% to 794p and Ocado Group (OCDO), down a further 1% back to 1,078p.
The day's risers included Devro (DVO), up 3.5% to 200p, McBride (MCB), up 3.4% to 139.6p, FeverTree Drinks (FEVR), up 1.4% to 3,680p, Greggs (GRG), up 1.9% to 1,044p, Finsbury Food Group (FIF), up 1.2% to 122.5p and WH Smith (SMWH), up 1.2% to 1,941p.
Amongst the FTSE 100 grocery and consumer groups Associated British Foods (ABF) was the biggest riser, up 0.9% to 1,941p, while Sainsbury's (SBRY), was up 0.8% to 331.6p and Marks & Spencer (MKS) rose 0.7% to 297.6p.