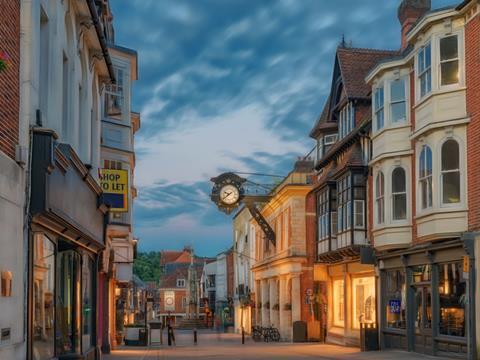 Top story
Black Friday failed to arrest a slump in shopper numbers in November according to the latest BRC Springboard Footfall and Vacancies Monitor, with expectations weak footfall will continue into Christmas.
Footfall in November fell by 3.2%, a significant decline on the previous year when it grew by 0.2%.
This marks the twelfth month of consecutive decline and illustrate that 'Black Friday' has only succeeded in driving more shopping online for bargains.
High Street footfall declined by 3.8% in the month, now four months of consecutive weakening of this shopping location. This was the largest decline since April 2018 when it fell by 4.0%.
Springboard said it expected retail footfall to decline by a further 4.2% year-on-year in December, which represents an escalation in the drop of physical shoppers from a 3.5% decrease in December 2017.
Retail Park footfall also fell deeper into decline of -1.4% growth in November, which was the deepest fall since April 2018 when it fell by 1.8%.
Shopping Centre footfall declined by 3.8%, down from the October 2018 rate of -3.3% and the November 2017 rate of -1.3%.
BRC CEO Helen Dickinson commented: "Footfall continued to decline as consumers stayed away from the high street in November. With one-in-every-three-pounds of non-food purchases made online last month, Black Friday accelerated the movement from in store to online in the lead up to Christmas. The Black Friday discounting period also began earlier for a large number of retailers negatively impacting footfall across a longer period over the month.
"It has been a difficult year for many retailers and the outlook remains challenging as Brexit uncertainty grows. Retailers will be following the upcoming parliamentary vote closely and hoping Parliament can secure a transition period to allow businesses time to adapt to life outside the EU. Without this transition, consumers face higher prices and less choice on their shopping trips."
Diane Wehrle, Springboard marketing and insights director, added: "The -3.2% drop in footfall in November is indisputable evidence that Black Friday delivers no tangible benefit to bricks and mortar stores.
"Whilst online shopping was inevitably more prevalent than in other months, the vast majority of spending still remained in store and this is what Black Friday impacts adversely. Since 2013, when Black Friday became established as a key trading day, footfall has decreased in every year bar one and the only increase in 2017 was just +0.2%.
"As we head into the zenith of the retail trading calendar, both retailers and consumers alike are in the midst of the greatest degree of uncertainty in recent times. However, the fact that the parliamentary vote is not taking place until the middle of December might deliver a slight glimmer of hope for some large ticket item retailers, as consumers may purchase now rather than later in an attempt to outrun inflationary pressures that are expected should the Brexit deal not be ratified."
Morning update
On Friday the UK's Competition & Markets Authority said it has opened an preliminary investigation into the proposed sale of Piper's Crisps to Pepsico.
The CMA is investigation whether the takeover will results in a "substantial lessening of competition", with a deadline for submissions of 21 December.
City sources have previously told The Grocer that foodservice specialist Piper's would fill a gap for PepsiCo in a market in which the Walkers manufacturer is underweight.
On the markets this morning, the FTSE 100 has opened the week down 0.2% to 6,766.9pts.
Early risers include Nichols (NICL), up 3.1% to 1,443p, Imperial Brands (IMB), up 1.3% to 2,367.5p and AG Barr (BAG), up 0.9% to 760p.
Fallers so far include Domino's Pizza Group, down 5.5% to 243.4p, B&M European Value Retail (BME), down 1.5% to 319.7p, Marks & Spencer (MKS), down 1.3% to 278.5p and WH Smith (SMWH), down 1.2% to 1,849p.
This week in the City
City newsflow slows down this weak as the City winds down for Christmas.
The key event of the week – unless it is delayed – will be parliamentary vote on Theresa May's Brexit deal tomorrow. If, as expected, parliament vote down the proposals the week will be dominated by the fallout and the repercussions for May's leadership and Brexit.
In the City, Wednesday brings a full year trading update from British American Tobacco (BATS).
Thursday will see full year trading updates from Ocado (OCDO) and PZ Cussons (PZC).
In the US, Costco will release its first quarter sales update on Thursday.
In UK economic news, the latest balance of trade and GDP figures will be released by the ONS this morning as well as numbers on industrial production and manufacturing.