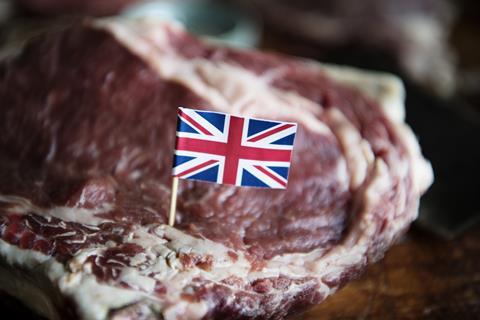 The UK could see exports of meat increase by up to 60% as a result of its latest trans-Pacific trade deal, according to new analysis by AHDB.
British beef, lamb, and pork traders can expect to see exports increase by 60%, 26% and 23% respectively within the first year of trade with countries like Japan, Chile and Malaysia as part of the new Comprehensive and Progressive Agreement for Trans-Pacific Partnership (CPTPP) deal.
This is according to predictions by the Agriculture and Horticulture Development Board (AHDB), whose latest trade modelling work on the UK joining the CPTPP highlighted the benefits that came with joining the free trade agreement for the red meat and dairy industries.
The AHDB analysis showed UK beef exports to CPTPP countries could increase from a yearly average of 2,355 tonnes to 3,759 tonnes. Lamb exports are expected to raise from 457 tonnes to 575 tonnes, and pork exports are set to go up from 3,508 tonnes to 4,326 tonnes per year.
While the short-term gains of the CPTPP proved optimistic for UK exporters, AHDB's trade and policy senior analyst Jess Corsair noted that joining the deal was "very much about playing the long game".
Longer-term benefits
"The expansion of the middle class in Asian and South American markets is likely to be a driver for these longer-term benefits for UK exports.
"Consequently, while we don't anticipate any dramatic changes to trade overnight, the forecast increase in demand for pork and beef by 2031 in Japan, Vietnam, Mexico and Canada is encouraging."
"Similarly, opportunities for dairy with significant growth in Malaysia and Japan for butter and cheese, and for skimmed milk powder in Mexico will be areas that the UK can capitalise on."
Additionally, the long-term benefits could become "much more significant" given there was potential for booming economies with growing populations like China, Taiwan and Ecuador to join the CPTPP in the future.
The AHDB will be releasing forecasts for the dairy exports industry in June.
The UK concluded negotiations to join the trans-Pacific agreement in March this year, but it is not yet clear when it will be able to make use of its membership – the legal fine-tuning must be done by all member countries before it is officially a part of the group and can start benefiting from easier trade mechanisms and reduced tariffs.
Government figures have previously suggested that joining the trans-Pacific deal could bring an estimated increase of 0.08% to the UK's GDP.