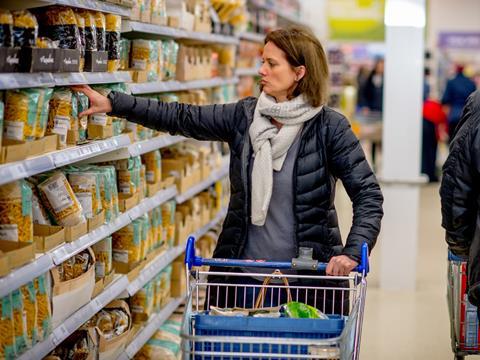 Top story
Shop prices in January jumped at the highest rate in almost six years despite post-Christmas discounts, data from the British Retail Consortium (BRC) suggests.
The monthly BRC-Nielsen shop price index showed that price inflation increased from 0.3% in December to 0.4% in January, as non-food deflation eased.
Food inflation remained steady at 1.5% for the month, although fresh food inflation jumped to 1.2% from 0.9% last month. Ambient food inflation meanwhile slowed down to 1.9%, from 2.3%.
High inflation for fish and alcoholic drinks was offset by a slowdown in price rises for dairy products and a fall in the price of meat.
It is "like that food inflation will subside over the next coming months" as the impacts of international food price changes and exchange rates filter down, the BRC said.
Non-food prices fell by 0.3% in January, compared with 0.4% in December, as a result of price increases in health, beauty and DIY categories.
Overall inflation means shop prices have inflated for four consecutive months following five years of intense inflation brought by intense competition for sales.
"Despite significant post-Christmas discounting, shop prices in January were slightly up on last year," commented Helen Dickinson, chief executive of the BRC.
"Promotions have become the norm in recent years, but it was never going to be possible to continue making seasonal price cuts deeper each year; especially given that the cost of importing many of the goods we buy increased with the post-referendum fall in the pound.
"Consumers have little to fear in terms of inflation over the coming months with many of the underlying pressures on prices easing.
"That is unless the UK leaves the EU without a deal on the 29th March, leading to increases in the price of many goods in the weekly shopping basket."
Mike Watkins, head of retailer and business insight, Nielsen, said: "With shoppers looking to make savings on household bills and sentiment on the turn, it's good news that shop price inflation is broadly unchanged this month.
"Intense price competition between food retailers at the start of the year is protecting customers from rising prices and there is no inflationary pressure coming from the high street as retailers, faced with weak demand, continue to absorb the impact of any rising costs themselves.
"The retail outlook is for low growth over the next couple of months and for shop price inflation to remain at around current levels, and less than CPI."
Morning update
AIM-listed Restaurant discount business BigDish has announced the appointment of Sanj Naha as its new CEO.
Naha, who joins from TripAdvisor and has worked as a consultant for UK restaurant groups, will start his role in Mid-February.
The appointment will see current CEO and company co-founder Joost Boer, move to the role of chief product officer and no longer be a company director.
The incoming CEO has "identified new locations" for the business to expand into in the second half of the year, it said.
"We wish to thank Joost Boer for his contribution to BigDish both as Founder and in building a world class technology platform," commented Naha.
"BigDish is a fantastic opportunity and all the indications lead me to believe it has the potential to become a dominant player in UK restaurant technology.
"I believe the UK is the right place to be at this time. Given how advanced the BigDish tech platform is, I do not expect that we will need to have a huge staff base in the UK.
"Whilst at TripAdvisor I helped grow their restaurant base from 11,000 to 36,000 over a two year period. I intend to bring that same philosophy to BigDish and management fully expect that we will achieve break even in our first two territories within 2H 2019."
Yesterday's key Brexit vote has propelled the FTSE 100 to jump 0.8% to 6,890pts this morning and the pound has recovered back to US$1.3009 though still below the US$1.3163 it was trading at last night before the 'Cooper ammendment' was voted down.
The early risers this morning include British American Tobacco (BAT), up 1.9% to 2,557p, Imperial Brands (IMB), up 1.6% to 2,450.5p, and GlaxoSmithKline (GSK), up 1,474p.
The early fallers include McColl's (MCLS), down 1.6% to 60p, Wetherspoons (JDW), down 1.2% to 1,190.7p, and Wincanton (WIN), down 1% to 237p.
Yesterday in the city
The FTSE 100 surged 1.3% to 6,833pts as it benefitted from the weakness of the pound amid continued Brexit uncertainty.
Greencore (GNC) jumped 2.8% to 199.5p after it posted a 5.8% rise in first quarter like for like sales, although headline revenues fell due to the closure of a number of sites.
Overall, the supplier said it had "performed well… in continued challenging trading conditions" in the 13 weeks to 28 December.
Tobacco giant BAT (BAT) lifted on the back of a rating's upgrade by Piper Jaffray, moving up 5.7% to 2,510p.
Other big risers included Premier Foods (PFD), up 4.9% to 38.2p, Wincanton (WIN), up 3.7% to 239.5p, AG Barr (BAG), up 3.1% to 769p and Unilever (ULVR), up 2.2% to 4,027p.
Shares in Imperial Leather maker PZ Cussons (PZC), down 14.8% to 178.6p, after sales and profits fell during the past half-year.
Yesterday's fallers included Domino's Pizza Group (DOM), down 8.7% to 250.1p, Fevertree Drinks (FEVR), down 5.4% to 2,461p, and Eagle Eye (EYE), down 4.7% to 151.5p.