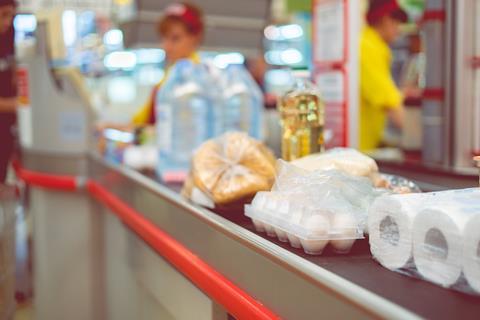 Take-home grocery sales growth slowed to 14.4% year on year during the 12 weeks to 9 August 2020 as sales began to fall away from the heights of the lockdown period, the latest figures from Kantar show.
Grocery spend of £9.7bn over the latest four week period was the lowest since February, although still considerably higher than pre-pandemic levels.
All of the major retailers registered overall take-home sales growth in the latest 12 week period, according to Kantar. However, all bar Ocado saw that growth slow compared with July.
Morrisons was the fastest growing big four retailer, with sales up 16.0% driven by a particularly strong performance from its supermarket stores.
Tesco was up 12.8%, Sainsbury's up 10.9% and Asda up 9.5% - but all lost overall share.
Iceland was the second fastest growing retailer at 29.2%, its share increasing to 2.4%. Meanwhile, Co-op increased its share to 7.1%, with growth of 22.4%. Lidl sales were up 15.7% and Aldi up 12.7%.
The highest overall growth was at Ocado, which was up 45.5% year on year.
Charlotte Scott, consumer insight director at Kantar, said: "While things are far from normal, the data shows a gradual softening of the more extreme lockdown trends in the grocery market. The relaxing of rules across much of the country means shoppers are less inclined to stock up their cupboards with regular large trips."
That has seen average spend drop below £25 for the first time since March to £24, although it is still considerably higher than the pre-Covid average of £19 per trip.
The latest period saw the introduction of mandatory face coverings for visiting shops in England. The number of supermarket trips was two million lower than would have usually been expected in the week after the rule was adopted, according to Kantar, and currently just over half of shoppers say they feel safe in stores.
Scott added: "With the country officially entering recession last week, atypical behaviours are likely to continue. During a recession we would generally expect shoppers to manage their spend more carefully. Early evidence suggests that most are not yet choosing to trade down, with brands and premium own label lines currently performing well, however price cuts have increased compared with July as some people look for opportunities to save."
Kantar also found grocery inflation now stands 2.9% for the 12-week period ending 9 August 2020, with prices rising fastest in markets such as ice cream, canned colas and household cleaners while falling in fresh poultry, butter and vegetables.
Meanwhile, Nielsen found that supermarket sales growth slowed to 7% in the four weeks to 8 August as shoppers began to settle into new shopping routines, post lockdown.
The warm weather, coupled with Brits working from home, spending less on dining out and embarking on UK 'staycations' over the summer have all contributed to this steady growth in UK grocery sales, compared to the 1% growth during this same period last year.
Online sales accounted for 97% of the growth - a total of £658m - as sales made in-store were only up by £20m.
Over the last four weeks, in-store sales growth overall remained flat at 0.3% but online grocery growth continued to accelerate, up 117%, maintaining its 14% share of all fmcg sales.
In terms of retailer performance, Morrisons (+13.6%) continued to outperform the other 'big four' UK supermarkets and increase market share, but Iceland (+24.4%) had the strongest growth overall.
The discounters Aldi (+10.8%) and Lidl (+9.1%) also showed signs of steady growth - which, in their case, came almost entirely from in-store sales.
Mike Watkins, Nielsen's UK head of retailer and business insight, said: "It is evident that some new shopping habits that developed as a result of the pandemic - such as opting to shop online - continue. UK shoppers are now establishing a new, regular shopping routine and we can expect the current levels of growth to continue for the rest of the summer.
"Shoppers are still shopping less often than they did prior to the pandemic, visits to stores are down 15% on the same period last year, but up from the 22% decrease registered in May, so there are signs of a willingness to return."
Watkins added: "The shift to online grocery shopping, which looks set to stay, is the most dramatic change of shopping behaviour we've ever seen. Though it has clearly been a positive gamechanger for shoppers and some retailers, it has come at the expense of stores - something that we have already seen in non-food retailing."