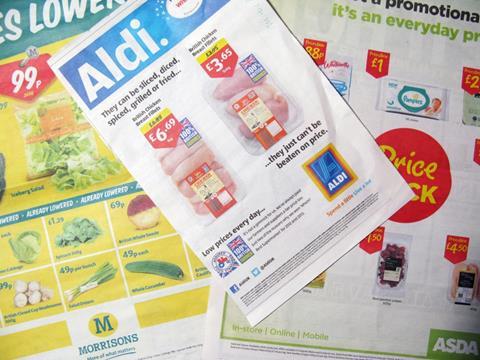 Margins at the big four UK grocers are unlikely to recover for another 12 to 19 months as the price war continues to rage and like-for-like sales decline, ratings agency Moody's has warned.
The march of the Aldi and Lidl is slowing but their market share has risen further in the latest Kantar Worldpanel figures to 9.3% – and the new report from Moody's expects that to increase to as much as 15% by 2020 as they open more stores.
There was a risk of the price war intensifying between Britain's biggest supermarkets if they did not develop strategies to operate with lower market shares, according to the findings. Out of the big four, only Asda, thanks to its parent Walmart, had the resources to engage in more cuts, Moody's said.
"Price cuts have given a short-term boost to volumes," senior analyst Sven Reinke added. "In a rational market we would expect the pace of cuts to slow because of the impact on margins. However there is a risk that some will continue to try to defend their market shares by further substantial price cuts, provoking further counter-measures by other big four retailers in the form of yet more cuts."
And while the hundreds of millions of pounds invested in slashing prices by Tesco, Morrisons, Sainsbury's and Asda have won customers back and helped to slow the rot in like-for-like numbers, the growth of online is diluting margins further and sales densities at larger stores keep falling.
"However, the UK's economic growth, rising real wages and improving consumer sentiment could support the big four's gradual recovery from fiscal 2016/17," Reinke said.