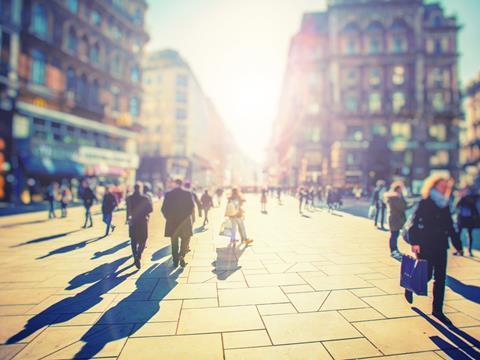 Top story
Retail footfall increased 1.4% in March, according to the BRC-Springboard footfall and vacancies monitor, as warmer spring weather helped boost shopper numbers after a poor 2018.
The overall 1.4% March footfall improvement compares to a 6% shopper plunge in the same month last year.
Overall shopper numbers are on a declining trend, with footfall dropping by 0.3% on a three month basis, while six and twelve–month averages are both at -1.4%.
High street footfall increased by 2.5% in March, against a decline of 8.6% in March 2018, while retail park footfall increased by 1.5%, in contrast to a 1.8% decline in March 2018.
Shopping Centre footfall continued to fall by 1.0%, against a decline of 4.8% in March 2018, and is now the 24th month of consecutive decline.
British Retail Consortium CEO Helen Dickinson commented: "Retailers will be relieved to see footfall up from last year though this is was heavily influenced by the weather: while shoppers in 2018 were contending with the "Beast from the East", this March has been mild by comparison. Unfortunately, the higher footfall has not translated into higher spending
"The data also showed that shopping centres continue to suffer, with 24 consecutive months of decline in footfall. It is vital that all different shopping locations are fit for the future, offering the mix of retail and experience-led opportunities that generate the necessary footfall to succeed. Furthermore, Government can support this transformation by reforming the outdated business system which holds back firms from investing in physical space."
Springboard marketing and insights director Diane Wehrle commented: "At first sight the year on year rise in footfall of 1.4% in March appears to signify a reverse in trend from the previous two years, when footfall dropped in all but two of the past 22 months.
"However, whilst news of an improvement in footfall would be most welcome, it is simply not the case and instead the rise of 1.4% should be regarded as an exceptional circumstance relating to a dramatic slump in footfall in March 2018 of 6%.
"The result clearly indicates that we continue to be in the midst of a no splurge culture; with consumer confidence continuing to languish, shoppers are clearly focussed on prudence. This becomes very obvious when looking at footfall in each week; with the month being bookended by two strong weeks while footfall plunged in the middle three weeks."
Morning update
Agriculture and engineering firm CARR's Group (CARR) has reported a rise in first half sales and adjusted profits despite "challenging market conditions".
For the 26 weeks ended 2 March 2019 group revenues were £206.2m, up from £200.1m in the prior year.
Adjusted profit before tax (stated before amortisation of acquired intangibles and non-recurring items) increased by 4.5% to £11.4m, while reported profit before tax dipped slightly to £10.3m from £10.6m.
Overall, Carr's said its agriculture business continues to perform in line with expectations despite unfavourable weather conditions in the first quarter.
These conditions affected volumes in both the UK and USA and was in marked contrast to the same period in 2018.
Overall, global feed block volumes decreased 0.5% against the prior year. Following a strong start to the year for our USA feed block business, volumes, including joint ventures, were 5.6% up on the prior year despite adverse weather conditions. UK feed block sales volumes were down 14.1% compared to 2018 due to significantly warmer and drier weather conditions.
Additionally, the continued uncertainty around Brexit also led to caution among the farming community impacting UK Agriculture.
However, the resulting effect on profitability was offset through strong positions on raw materials and effective procurement across a broad range of product lines.
Overall the agriculture division has reported adjusted operating profit of £10.0m, which was unchanged from the prior year.
Carr's UK retail business was similarly affected by the mild, dry winter; revenues were down 0.4% and like for like sales were down 5.5%.
CEO Time Davies commented: "The group delivered a good performance during the first half of the financial year and trading remains in line with the board's expectations for the full year.
"I am pleased to report that our Engineering division had a strong start to the year as a result of good performances in our UK Manufacturing and USA Engineering businesses.
"Trading in the second half of the year has started in line with expectations, and the board's outlook for the full year remains unchanged. We also remain confident in the medium term prospects of the group as we continue to invest across our divisions, expand our product offering and grow our international footprint."
Carr's shares have dropped 4.2% to 149.4p so far this morning on the results.
On the markets this morning, the FTSE 100 has opened down 0.1% to 7,426.6pts.
Early risers include CAKE Box (CBOX), up 3.8% to 164p, McBride (MCB), up 1.5% to 106.2p and McColl's (MCLS), up 1.4% to 80.7p.
Fallers so far today include Compass Group (CPG), down 2.$% to 1,749.5p, SSP Group (SSPG), down 1.%% to 695.6p and PayPoint (PAY), down 1% to 914.1p.
This week in the City
Despite a four day week heading into Easter there is no shortage of major fmcg company updates this week.
The main even in terms of the UK is there first quarter trading update from Unilever (ULVR) under new CEO Alan Jope on Thursday – the first trading period under his stewardship since taking over from Paul Polman in January.
Before that US consumer giant Johnson & Johnson will issues its first quarter earnings update on Tuesday.
Wednesday brings Q1 trading updates from Danone (BN) and PepsiCo (PEP).
On Thursday the world's largest consumer group Nestle (NESN) will issue its own first quarter results along with tobacco giant Philip Morris, while Pernod Ricard will update the market on its third quarter sales.
In economic news, UK inflation figures for the month will be released on Wednesday, while the official UK ONS retail sales will be published on Friday.