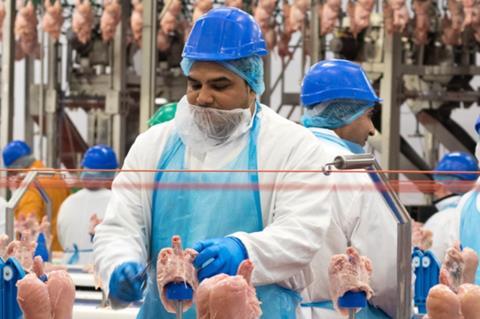 2 Sisters Food Group has temporarily closed its Coupar Angus poultry processing site in Scotland after four staff members tested positive for Covid-19.
The poultry giant said it believed the initial infected person, a manager at the Tayside plant, had caught Covid-19 from a close relative who did not work at the factory. It follows reports last week by NHS Tayside of a small cluster of cases in north east Angus.
The Grocer understands senior management at 2 Sisters – including founder Ranjit Singh – met yesterday to discuss the options available to the business, ranging from implementing its own mass testing to Public Health Scotland testing, alongside reduced operations at the plant.
However, they were not convinced of these options "and wanted to act decisively and with pace to set a good example", The Grocer understands, leading to a decision to suspend operations. The plant employs about 1,000 staff.
A spokesman for 2 Sisters stressed supply to the company's key customers would not be affected by the site closure, while the business had implemented a "robust number of measures to prevent Covid-19 since late March".
These include temperature checks on arrival, perspex screening and face visors for all staff, staggered staff breaks and an increased smoking area, as well as new shift patterns to reduce congestion and new entrance and exit routes.
It follows a major outbreak at a 2 Sisters site on Anglesey in North Wales in June, which led to more than 220 confirmed cases. Closing the Coupar Angus site was "the responsible action to take", said the 2 Sisters spokesman.
"Our priority remains the safety and wellbeing of all colleagues, and we will be reviewing the situation closely in partnership with the relevant regional and national Scottish Covid-19 taskforces before we restart production. The facility had previously operated for six months without a single positive Covid-19 case recorded."
The closure comes as Greencore confirmed almost 300 staff had tested positive at its M&S sandwich-making facility in Northampton last week, while Tesco confirmed it had experienced a small outbreak at its Extra store in Swindon.
Elsewhere, fruit giant Fyffes was this week awaiting the results of testing at its distribution centre in Coventry, after 10 members were diagnosed with Covid-19 last Thursday.