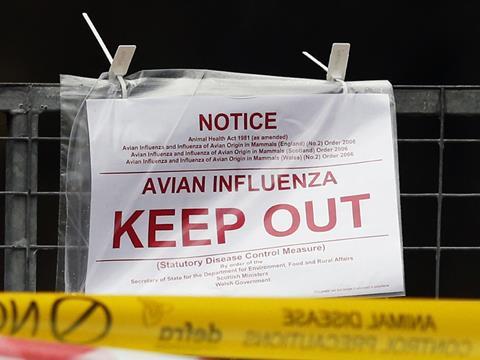 Some 13,000 birds have been culled on a Cheshire poultry farm after testing confirmed an outbreak of the H5N8 strain of avian influenza.
The flock, at an un-named farm near Frodsham, was breeding stock that produced hatching eggs, Defra said.
"Further testing is underway to determine if it is a highly pathogenic strain and whether it is related to the virus currently circulating in Europe," it added. Temporary control zones of 3km and 10km have been put in place around the infected site to limit the risk of the disease spreading.
The outbreak follows a confirmed case of the H5N2 strain of avian flu at a small farm in Deal, Kent over the weekend, which led to the culling of all 480 birds on the premises.
Avian flu has been making its way towards the UK across the Continent over the past two months. The discovery of a highly pathogenic strain in the Netherlands last week led to the mass culling of more than 35,000 broiler chickens in the east of the country.
Despite this week's UK cases, "the risk to public health from the virus is very low and the Food Standards Agency advises that bird flu poses a very low food safety risk", said chief vet Christine Middlemiss.
"We are urgently looking for any evidence of disease spread associated with this farm to control and eliminate it."
British Poultry Council CEO Richard Griffiths stressed "immediate action has been taken to limit the risk of spread". Bird keepers "must remain vigilant and report any signs of the disease, whilst ensuring that good biosecurity is practiced on site", he added.
"We are working with Defra and are remaining vigilant on poultry sites to minimise the risk to the national flock. We will closely follow this and provide an update over the coming days."