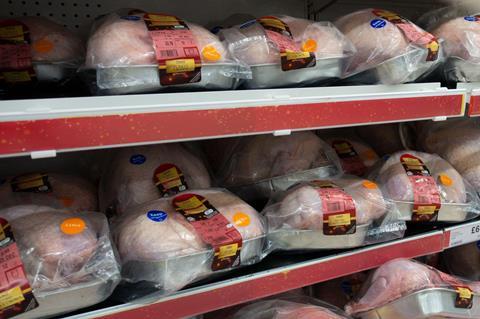 Shoppers face paying even more for their festive turkeys than they did in the bird flu-plagued run-up to last Christmas, despite a bounceback in supply this year, The Grocer can reveal.
The Grocer's analysis, using Assosia data, shows an average price hike of 6% across the 25 fresh and frozen whole or turkey crown lines in Asda, Morrisons, Sainsbury's, Tesco and Waitrose that were available both this week and this time last year.
And discounters Aldi and Lidl have also increased prices on the majority of turkey lines. Indeed the biggest hike was at Lidl, with its Braemoor Medium British 1.9kg Turkey Crown up 27.9% to £17.89.
An Asda Fresh Extra-Large British Turkey Crown (3.3kg) on pre-order has increased 19.1% this year to a unit price of £26. This is equivalent to £7.88/kg, representing a £1.26/kg hike on the per kg price for a similar-sized bird at Asda on 14 November 2022.
A Tesco British Frozen Large Turkey Breast Crown (2.4kg-2.8kg) saw the next largest price increase, up by £3 (or 15.8%) from £19 to £22.
Other examples include a Sainsbury's Small British Frozen Turkey Crown (1.5kg-1.9kg), which saw a price hike of £2 (12.5%) from £16 to £18.
A total of 14 lines across the traditional big five and discounters have risen in price by more than 10%.
However, a further 42 fresh and frozen lines across all seven retailers are available this week that were not available in the run-up to last Christmas, making an exact year-on-year price comparison impossible, while some festive prices have still not been announced.
The increases come despite improved availability this year, with The Grocer reporting a fortnight ago that producers were ­"buoyant" about turkey sales as the avian flu threat was lower.
And some festive turkeys in the big five have been priced very competitively. A total of three fresh lines have seen cuts in price, with a Morrisons British Large Whole Turkey (5.5kg-6.99kg) seeing the biggest annual price drop, by 24.7% to £23.69. Asda's medium British Turkey Crown also fell in price, by 11.8% to £7.27.
Four more products saw no increase in year on year price.
The picture is also mixed in the discounters. While four of the seven turkey lines available in Aldi and Lidl on both dates have been hiked in price, and two more products saw no changes in price, an Ashfields medium fresh turkey (5.3kg) in Aldi was 24.2% cheaper year on year at £19.67.
With fresh turkey pricing yet to be disclosed by a number of retailers, and many subject to change in the run-up to Christmas, there could yet be "more to play out", said ex-British Frozen Food Federation CEO Richard Harrow, who is now a partner at retail consultancy IPLC.
"Pricing is still all over the place," he said.
"Aldi, in its Christmas brochure, initially anchored fresh prices to last year's rate at £3.99/kg, later adjusting it to £3.75/kg in response to Lidl's launch price. Both retailers now find themselves below last year's final pre-Christmas pricing of £3.99/kg," he added, while suggesting there could be more cuts to come.
"You have to believe it will become really cut-throat in the run-up to Christmas, especially if retailers don't see the volumes shifting," he suggested. "I expect it will become very competitive."
Responding to The Grocer's approach regarding price increases, Andrew Opie, director of food & sustainability at the British Retail Consortium, said: "While the price of turkeys has been affected by the residual impact of high input costs such as energy and animal feed, retailers will continue to work hard to deliver an affordable Christmas for hard-pressed households."
A Waitrose spokesman added: "We've worked very hard with our suppliers to ensure that all our fresh and frozen turkeys offer good value, while continuing to deliver industry-leading animal welfare standards, fresh produce grown with care and fair deals for farmers."
It comes as Assosia data for this week's Key Value Items tracker (below) shows that other components of Christmas dinner have also seen inflation.
Maris Piper potatoes saw prices rise by 6% on average, whilst carrots and peas saw 12% and 2% price hikes respectively. Shoppers will have to fork out less for gravy, however, with own label granules 2% cheaper year on year.